Clean seas, healthy rivers, marine wildlife eating jellyfish for dinner instead of plastic bags … Less Plastic and City to Sea have always shared the same vision: a world where people use less plastic and we connect our actions to our oceans. So when Amanda and James asked us if we'd like to take on their legacy, we said a whole-hearted YES!
Natalie Fée, City to Sea's founder and CEO, first met Amanda seven years ago when they were both starting out to do their bit on the plastics issue. They hit it off over a coffee (in a reusable cup of course) before an event, and naturally adopted a 'together we rise' relationship, helping each other over the years with speaking events, books and partnerships. The Less Plastic brand, partnerships and incredible supporter-base is testament to Amanda and James's hard work, dedication and commitment to the cause and we're thrilled to be carrying it forward.
So, a little bit about us, in case you're wondering who we are. If you don't already know City to Sea, we're the organisation behind the world's largest water and zero-waste refill campaign, appropriately named, Refill. We've got over 400 Refill schemes in the UK, and a whole load more around the world in Chile, Switzerland, Germany, Ecuador and Japan! Our award-winning free Refill app has been downloaded more than 400,000 times and we're stopping around 100 million bottles from entering the waste stream each year!
In 2021, we launched the first World Refill Day – a global campaign to prevent plastic pollution and help people live with less waste which brings together our planet-protecting partners and thousands of everyday activists around the world to call on businesses, brands and governments to join the refill and reuse revolution Join us next June 16th and be part of a global movement with the power to create a wave of change and make single-use plastic a thing of the past.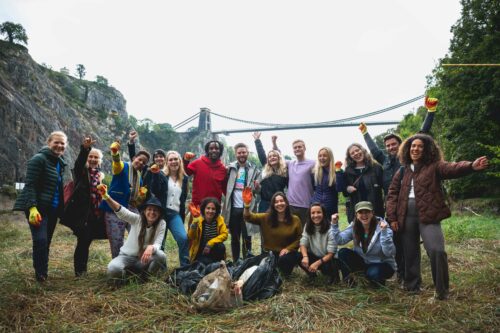 We're also behind #PlasticFree Periods and Rethink Periods and, since 2017, we've been successfully campaigning to raise awareness around the hidden plastic in period products, changing legislation, educating thousands of students, training teachers and nurses and generally powering the rise of the reusables!
Back in 2016, we launched our #SwitchTheStick campaign calling on UK retailers to switch from plastic to paper cotton bud sticks. Thanks to our AMAZING supporters, the campaign was a huge success saving thousands of tonnes of pointless plastic from ending up in our rivers and oceans. Just one of our many campaign wins – and we're confident there will be plenty more to come.
We're super excited to continue to bring you the latest plastic news – the good, the bad and the brilliant – and look forward to pushing for the changes we need to see in the world with you, Less Plastic, for the planet!
With love and appreciation,
The City to Sea Team x