Most of us are now aware of the devastating impact of excessive global plastic consumption on our oceans. We've seen shocking images of albatross chicks with plastic in their stomachs and turtles eating plastic bags, or we've noticed the increase in plastic pollution on our local patch – in our streets, parks, rivers and beaches.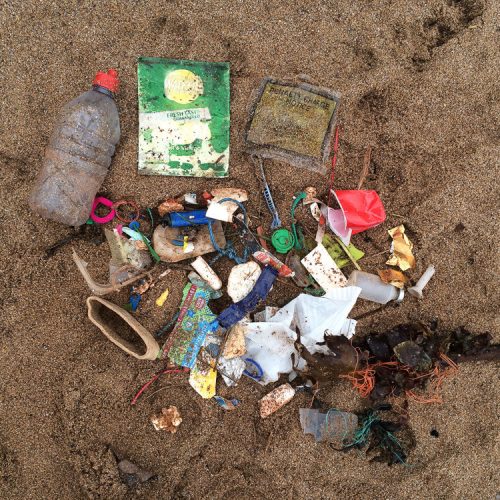 We're all responsible for this mess on some level because we've all used and disposed of too much plastic; and that plastic has made it's way from our overflowing landfills and inadequate recycling systems into our natural environment, where it wreaks havoc on wildlife and eco-systems.
As individuals we have the power to make a difference to the plastic crisis through our everyday choices, by changing some key habits to reduce the amount of plastic we purchase and throw away, particularly by boycotting single-use plastic.
However, the impact of individuals is often limited by decisions made further up the supply chain to include excessive or unnecessary disposable plastic on the products we buy and use in our everyday lives.
If you work in a business, or attend a school or university, you're in the privileged position of being able to make changes with far-reaching and long-lasting impact, because of the scale of your organisation.
Whilst most organisations currently generate excessive plastic waste, this represents an amazing opportunity for positive change, starting straight away.
You can become a Plastic Game Changer – by taking action to cut the plastic waste generated by your organisation and creating a ripple effect of positive change among your suppliers, colleagues, customers, students, partners, competitors and wider community.
Reducing plastic waste generated by your organisation delivers obvious benefits for the environment and makes good business sense too.
For too long plastic been seen as a cheap, easy, quick-fix 'solution' that we've come to rely on due to habit and not necessity.
To become a Plastic Game Changer you simply need to challenge yourself and your colleagues to think more creatively and re-learn how to do business without producing tonnes of plastic waste.
And the good news is, it's not rocket science.
Being a Plastic Game Changer means:
Taking responsibility for the plastic waste you generate
Innovating, re-thinking how you do things & discovering creative ways to significantly slash your plastic use
Creating a ripple effect of positive change among employees, suppliers, students, customers & your industry or community
Anyone in business can be a Plastic Game Changer, at any level and in any role – there's a place for everyone to make significant changes. There will be something that YOU are exactly the right person for. Does something come to mind straight away?
I've developed a 5-step framework to help you accelerate plastic reduction efforts in your business, breaking it down, so the task doesn't overwhelm you – enabling you to get started straight away.
I've called this approach 'the Plastic Game Changer 5 Ps'.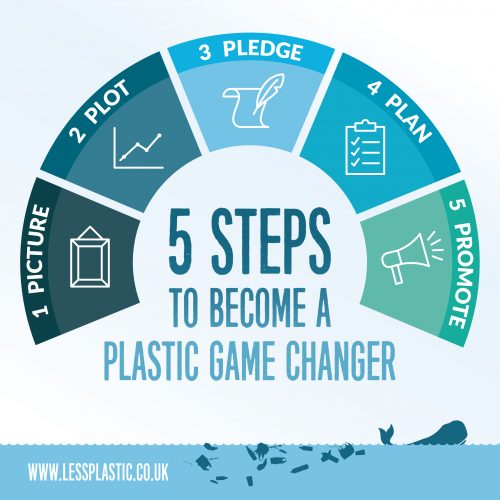 The 5 Ps are: Picture, Plot, Pledge, Plan and Promote.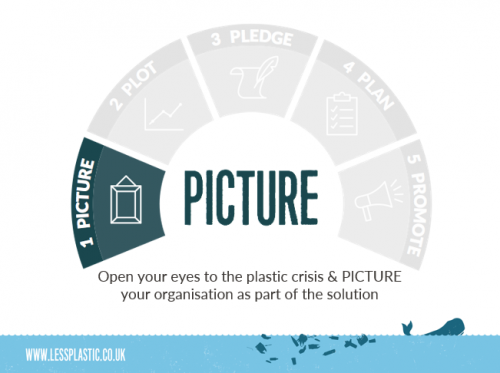 1. Picture
The best place to start is to engage your colleagues & educate them on why your business needs to cut plastic use.
Open their eyes to the current plastic crisis, create a shared vision & PICTURE your organisation as part of the solution.
One way to frame the issue for your colleagues is to hold a talk about ocean plastic in your workplace. You could either get someone internal who is passionate about the problem to share their concerns or invite an external expert to come and inspire your team and share insights and practical strategies to use less plastic in your personal lives and professional roles.
Alternatively, you could arrange a screening of an inspirational film such as Plastic Oceans or Trashed to visually fire-up your team for the task ahead.
You can also use resources such as our eye-catching infographics that raise awareness of the issues with plastic pollution and visually convey the steps we can take  to tackle it.
Another suggestion is to organise a team clean-up of a local park, river or beach to highlight the scale of the plastic crisis on your doorstep. Nothing beats first-hand experience – seeing and taking on board that the plastic we use in our everyday lives spills out into our environment, even when we've disposed of it responsibly, due to widespread inappropriate and excessive plastic use.
A team clean-up is also a great way to bond by doing something meaningful together and it will help focus your plastic reduction efforts. You're likely to pick up lots of single-use and disposable plastic and polystyrene during your clean up. Make these your top priorities when it comes to thinking creatively about alternatives later on in the process.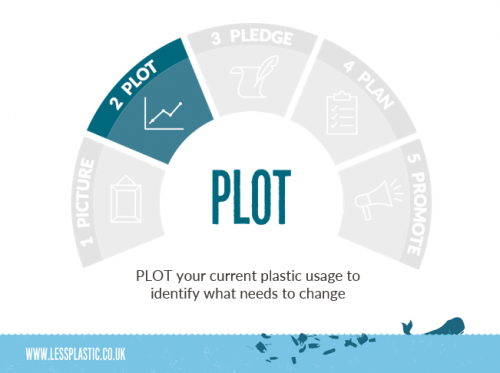 2. Plot
The next stage of the process is to PLOT your current plastic usage – capturing it in spreadsheets – so you're clear on the biggest sources of plastic waste within your business and can identify what needs to change.
If this sounds off-putting don't worry. I thought this would be the hardest part too, but when I interviewed the Head of Sustainability at online retailer Surfdome as part of my research for my book – he said this was one of the quickest steps.
Every business is unique, but for them they were able to track the volume, cost and weight of the plastic packaging they used by accessing 'business consumables' spreadsheets which detailed the last 12 months of purchases, including all plastic and disposable plastic items.
Taking a note of benchmark figures at the start of the project is extremely important to create realistic yet challenging targets and also to be able to highlight the cost and plastic savings you achieve.
Plot the weight, volume and cost of key plastic items purchased by the business – from packaging to marketing & promotional materials, to stationery to kitchen/canteen/cleaning items.
It's important to capture cost in order to track cost efficiencies of the project further down the line.
Also plot current business waste by volume/weight and cost. As your project progresses and you succeed in persuading suppliers to reduce plastic packaging too, you'll inevitably see your business waste costs plummet.
Another tip from Surfdome is to ring-fence the cost savings achieved by your plastic reduction efforts to allow for some additional investment that may be required in other areas – e.g. reusable/returnable packaging solutions that may need an initial outlay or recycled and recyclable disposables rather than non recyclable ones.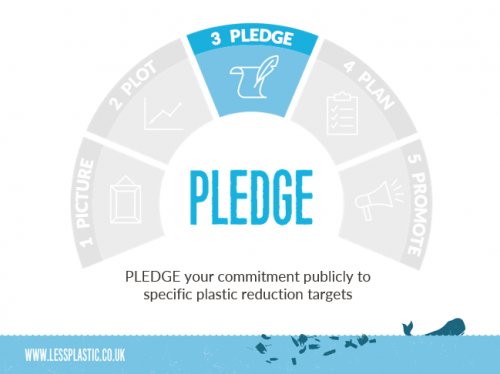 3. PLEDGE
Now you're clear on how much plastic waste the organisation currently generates, and where the hot spots are, it's time to PLEDGE your commitment publicly to specific plastic reduction targets.
Making your pledge public will maximise the positive PR value of your efforts and keep the business focussed and accountable.
Some recent high-profile examples include:
The list is ever-growing. You will be in good company!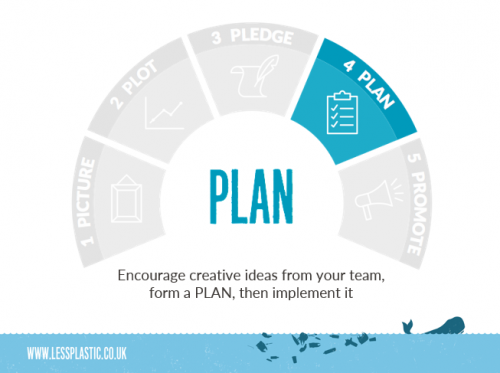 4. PLAN
The fourth stage is to encourage creative ideas from your team, form a PLAN then implement it, to achieve your plastic reduction goals.
First, address the obvious quick-wins to gain early momentum for the project. As part of plotting your current plastic use you will have identified some key areas of your business that produce the most plastic waste. Focus on these first.
Some examples could be, asking a particular supplier to change their packaging or getting rid of disposable plastic cups at the water cooler.
With each change made, calculate the plastic savings and share them with the business to create a positive feedback loop.
Then make time to look at all the areas of the business where you use plastic and brainstorm ideas with the relevant employees on how to reduce or eliminate disposable plastic. People doing the roles are the ones most likely to come up with workable alternatives that reduce plastic use.
Some useful questions to ask:
Do you really need it or do you just use it because you always have?
Can you cut it out altogether? (saving time & money spent re-ordering, as well as plastic)
Is there a more sustainable/reusable alternative?
Are the alternatives truly more eco-friendly? (be careful to avoid 'green-washing' – many 'biodegradable' alternatives are no better than normal plastic)
Can you change what you buy, where you buy it from, or speak to your suppliers about being more eco with their packaging, to cut plastic waste?
Can you & your suppliers switch to returnable/refillable/reusable packaging?
You can also take inspiration from best practice examples from businesses that are ahead of yours on this journey. It won't take you long to find them as they are likely to be promoting what they do for maximum exposure. (I am also collating a resource of Plastic Game Changer businesses that have useful lessons to share – so check back here soon.)
Compile lists for every department as an output from the brainstorm sessions – capturing what plastic is currently used and ideas for alternative ways of doing things to make plastic savings.
For example, you might have a list for marketing and promotions – with bullet points listing the current use of plastic in this area, and another column for ideas of more sustainable alternatives – e.g. instead of branded balloons you could use reusable bunting; instead of plastic wrapped brochures you could send them in recycled paper envelopes or switch to electronic versions.
Another good tactic is to incentivise employees to continuously look for ways to reduce plastic in their roles.
For example you could run regular fun competitions between teams & reward those who make the biggest plastic savings.
The most important thing is to quickly formulate a plan following the team brainstorms, and commit to implementing it – backed by ample people, budget, time.
As part of the process you will need to:
Decide which actions are a priority and which ones will make the biggest impact
Identify any new skills or processes that need to be adopted to make it happen
Decide how long the transition period will be to give time to embed new practices
Always measure plastic savings made against where you started from and against the targets in your pledge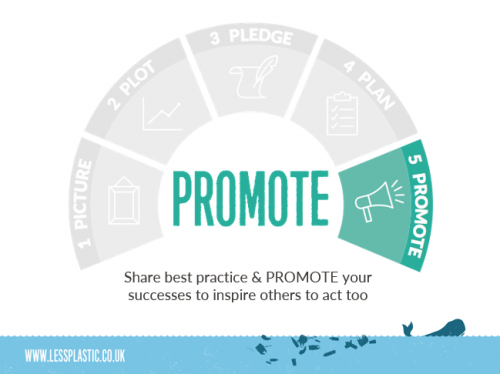 5. Promote
The final step is to share best practice & PROMOTE your successes to inspire others to act too.
This will maximise the brilliant PR opportunities, impress your customers and attract top talent to your organisation. You'll also amplify the impact of the changes you've made by inspiring clients, suppliers and competitors to take action too – creating a ripple effect of positive change!
You might think this all sounds like a lot of work, but I can assure you it is worth it.
The business case for being a Plastic Game Changer is compelling, and includes…
Being a leader in your industry
Lead the way by adopting sustainable practices that work for your business without costing the earth
Saving money
Many of the disposable items you currently invest in can be replaced with reusable items that will save you from frequently buying and replacing stock|
Reducing your waste disposal costs
Businesses face high costs for disposing of plastic and other materials, whether for recycling or landfill. Reducing the waste you generate will save you money as well as improving your green credentials
Attracting & keeping eco-friendly customers (and employees!)
Once a fringe movement, Green consumers are now a growing tribe of passionate, vocal customers whose loyalty is worth earning. If you actively show you are trying to do the right thing for the planet, they are very likely to become your most loyal advocates. The best employees are also attracted to sustainable businesses. We heard from Surfdome Head of HR that he uses their plastic project as one of the key selling points to secure top talent!
Winning recognition for your Green practices
Sustainable practices will help you receive recognition and awards from independent bodies, which gives you great positive social media and PR stories to share with customers and suppliers alike, and raise your profile among new audiences
So how do you think you could get started on this project?
Well you're already part way there. Just by reading this article you've started the PICTURE part of the process – hopefully you're beginning to envision yourself as a Plastic Game Changer within your business, industry and community.
You need to believe it is possible, to have the best chance of making it happen.
Another great step would be to actually DO something, to get some early momentum, by thinking of some quick-wins or no-brainers – some easy changes you can make to reduce plastic in your role.
Can you think of one thing you can change to reduce plastic…
this week?
this month?
this year?
(Hopefully you will be excited to change more than one thing this year!)
Here are 9 ways to reduce plastic in your workplace to help get you started.
Find out more about the 'Plastic Game Changer' book that will be available in early 2019, and be the first to know when it's available.
Good luck and please get in touch if you'd like any support from to help you be a #PlasticGameChanger.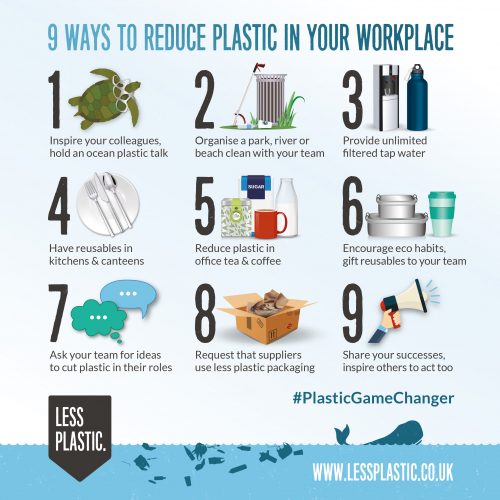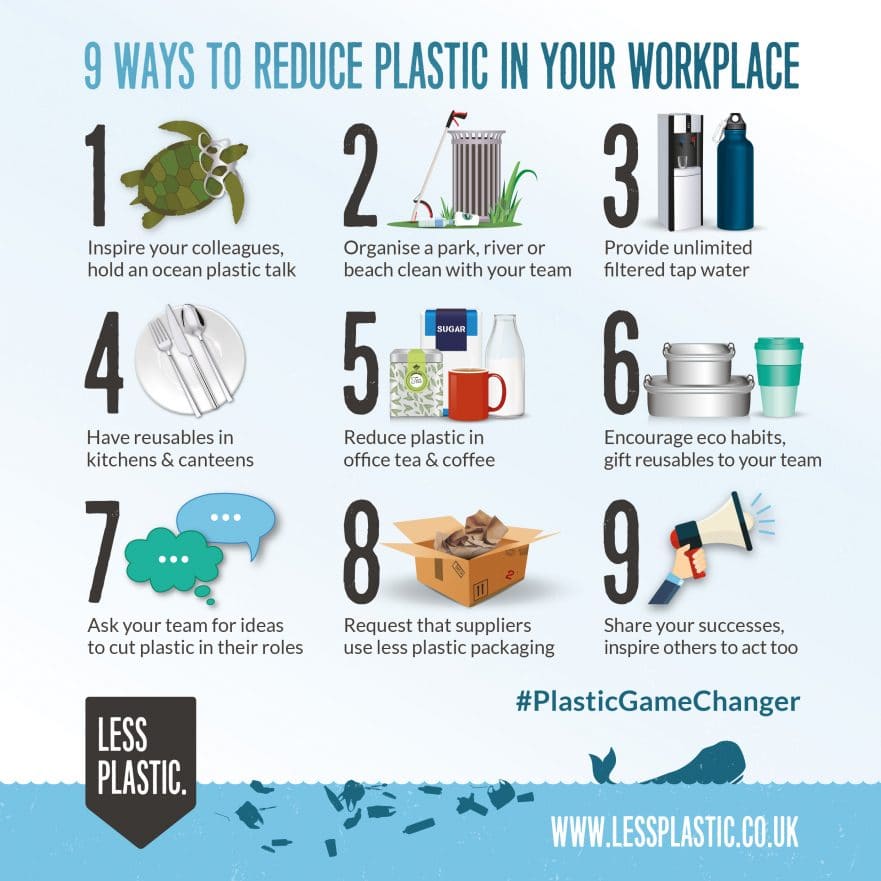 (C) Less Plastic 2018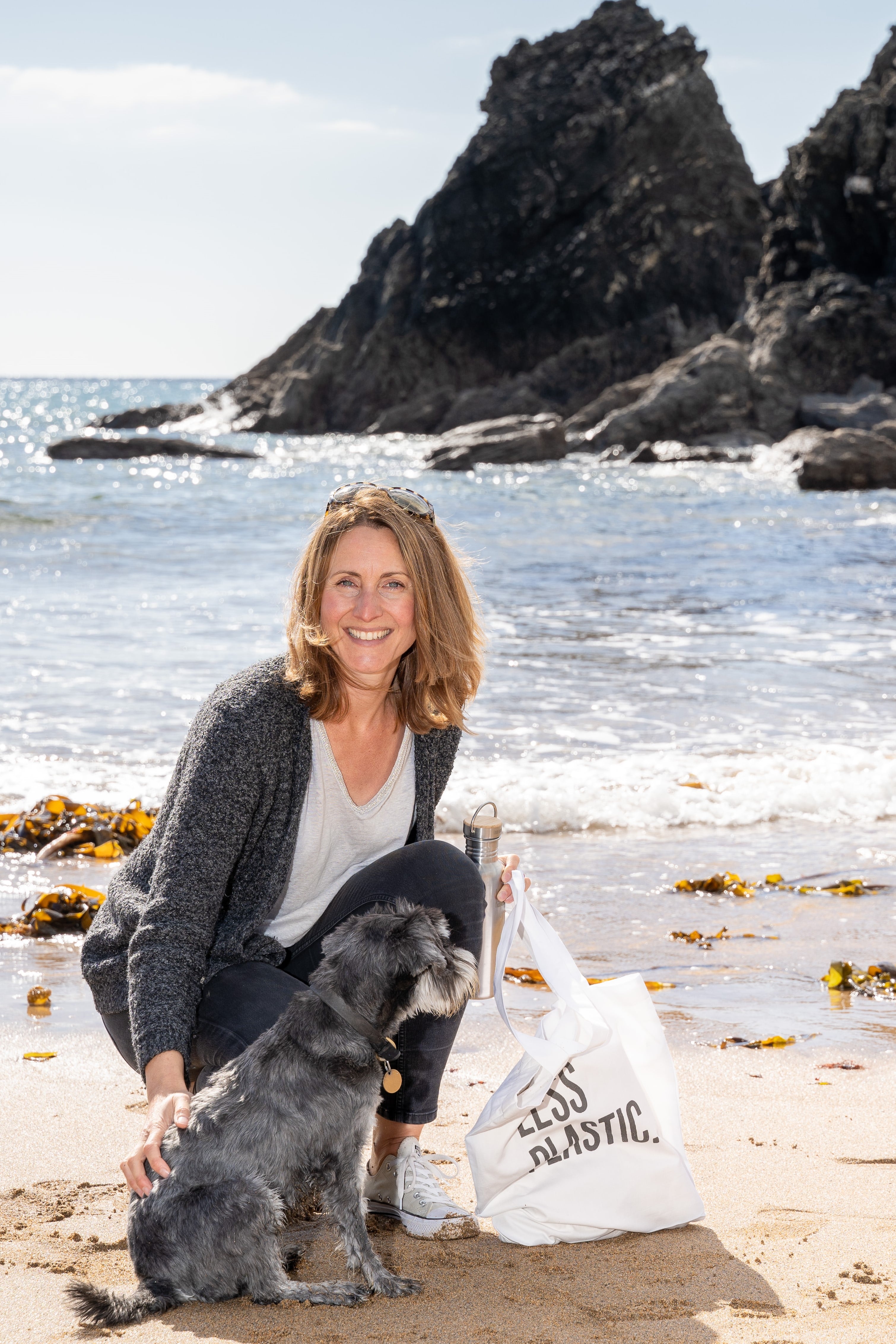 Amanda Keetley is a professionally qualified Marketing expert with over 20 years' experience, specialising in strategy and communications.
She founded Less Plastic in 2015 to raise awareness of the ocean plastic crisis and inspire individuals, organisations & communities around the world to use less plastic. She has brought the "less plastic lifestyle" to a wide audience via her blog, infographics and social media following.
Amanda wrote the world's first book to help businesses reduce plastic waste,  called Plastic Game Changer, which features her five-step framework to accelerate plastic reductions plus invaluable insights and best practice case studies. She offers talks & workshops, consultancy and infographics to inspire positive change.
In her spare time she organises monthly community beach cleans and also loves dog walks, yoga, kayaking, snorkelling, and the thrill of running into the cold sea with no wetsuit!
You can find her on Instagram, Facebook, Twitter and LinkedIn.