Relaxing beach holidays, whistle-stop city breaks or backpacking adventures – wherever your wanderlust takes you, don't leave your eco-friendly habits at home.
Yes, we know that flying is terrible for the planet, and it's better to travel by train, bus or boat whenever possible (and when it's not possible, we try to make ourselves feel better by flying with the most fuel-efficient airlines and off-setting our flight emissions)… But regardless of your mode of transport, you don't have to succumb to single-use plastic as soon as you embark on your trip!
If you're an eco-warrior with plans to explore the many wonders of the world, our less plastic travel tips will ensure you don't leave a massive plastic footprint behind you.
Here are 9 easy ways to travel with less plastic…
1. Reusable drinks bottles*
With recent figures revealing we're getting through a million plastic bottles a minute globally, and the world's plastic recycling system widely recognised as being broken – it's never been more important to take a stand by refusing plastic drinks bottles. In countries where drinking water is safe, taking a reusable water bottle is a no-brainer – better for the planet and your wallet. You can usually find a water fountain, or a bar or café that will refill your bottle with free tap water. At airports you'll have to empty your bottle before going through security but can refill on the other side at a restaurant concession or water fountain. I don't recommend refilling on the plane as the water is unlikely to be fresh.
Klean Kanteen bottles are durable, stylish and ethically made using responsible materials. When travelling abroad, or even just to a meeting in London, I keep thirst at bay with a reusable water bottle and an insulated bottle for tea or hot water (Have you tried plain hot water? I find it really refreshing. And boiled water is a great choice if you're unsure of the quality of your drinking water.)
* If tap water is not safe at your destination, take a water filter or purifier, and consider boiling it to be extra safe. Depending on whether you need to filter out bacteria, viruses or sediment – my research for the best water filters/purifiers for travellers looking to avoid bottled water came up with Steripen, Sawyer and Life Straw. I haven't got any personal experience of these, so please let me know your favourite ways to avoid bottled water on your travels in the comments below.
(Side note – Klean Kanteen have sponsored this infographic and blog post, but I'm working with them because I genuinely love their products. I've had my Klean Kanteen insulated flask since I started living with less plastic in 2015. I use it almost every day – whether on-the-go or sitting at my desk – and it's still going strong.)
2. Bamboo travel cutlery
Carrying a set of bamboo travel cutlery means you can refuse all those horrible single-use plastic knives, forks and spoons that are useful for a matter of minutes, then destined to pollute the planet for centuries . Choose bamboo rather than stainless steel because it's lightweight, won't rattle nosily in your bag and you won't get stopped by airport security for having a potential weapon in your hand luggage! You can often purchase a set with a stylish fabric wrap to keep it clean and together. Add a reusable straw if you'd find that handy too. If you invest in a travel cutlery set for your trip, rest assured you'll make good use of it on your return too – it'll be an dependable companion for picnics, take-aways and lunches at your desk, when your holiday is a distant happy memory.
3. Bring your own snacks
Packing your own snacks is a great way to avoid hurried purchases encased in disposable plastic when hunger strikes on-the-go. You may still need to buy some food out-and-about, but supplementing it with pre-prepared snacks will save you money and be more healthy. Our favourite less plastic snacks are fruit in natural packaging (AKA their skins), chopped vegetable crudités, nuts & seeds, and to satisfy a sweet tooth, home baked treats or chocolate wrapped in foil and paper or cardboard.
4. Look up how to say "no straw please"
From soft drinks, smoothies and milkshakes to cocktails – if you're not concentrating, you might end up with a single-use plastic garnish in your drink. Swot up in the language of your destination and add "no straw please" to your foreign phrase repertoire. Then get into the habit of saying it every time you order your drinks. There might be the odd slip-up when you're served a straw on auto-pilot. Instead of getting annoyed, use it as an opportunity to explain why you don't want a plastic straw in your drink (if you're language/gesticulation skills are up to the job!) and you just might make them think and inspire them to stop putting straws in all their other customers drinks.
5. Choose ice creams in cones not cups
In my opinion, if you're going to have a treat, nothing beats a good ice cream, whatever the season. When we were in Rome last New Year, despite the wintry weather, we developed a daily ice cream habit because Italian gelato tastes sooooo good! Whilst it might not be the best option for your waistline, do it for the planet because an ice cream in a cone makes the perfect plastic-free treat!
6. Beverages in glass bottles, cans or on-tap
When you're re-hydrating on holiday – whether at a shop, café or bar – it's usually possible to avoid plastic bottles, even if you need to be a bit more flexible with your drink of choice. Drinks on-tap are the most eco-friendly option (great excuse for a cold beer!); whilst anything that comes in a can or glass bottle is easier to recycle than plastic (which is more truthfully 'down-cycled', if recycled at all). However a drink in a can or glass bottle is only a green choice if you can be sure it will reach the right kind of recycling bin when you've finished.
7. Collapsible food pots for snacks and take-outs
If you're serious about avoiding single-use waste on your travels, you'll find a couple of collapsible food containers make a great addition to your list of travel essentials. Once you have them, you'll wonder how you got by without them! Useful for local markets, delis, zero waste/bulk stores, take-out restaurants and even for saving leftovers for later after a feast of a meal. Collapsible food pots are lightweight and won't take up too much space in your luggage either. What's not to love?
8. Soap & shampoo bars and plastic-free deodorant
Unfortunately most holiday accommodation provides small plastic bottles of bathroom products that get replaced regardless of whether they've been finished. It's eye watering to think how many mini plastic bottles are thrown away globally on a daily basis. Whilst you can't change this phenomenon on your own, by taking your own plastic-free toiletries at least you won't perpetuate it. Package-free soap and shampoo bars in a lightweight soap tin are a great way to avoid plastic bottled products and are easier to get through hand-luggage security too! Our current favourite soap bars are made by Wild Sage & Co – we love their amazing scents and moisturising properties. Beauty Kubes offer another plastic-free way to wash your hair – you simply crumble a shampoo cube into your palm, add water from the shower to make a paste, lather and rinse for brilliant smooth, shiny hair that doesn't even need conditioner! Our favourite plastic-free deodorant is Earth Conscious because it works really well (even in sweaty conditions!), doesn't contain any nasties and is available in recyclable tins or cardboard tubes. Of course these products are not just good for travelling, they work well to reduce plastic waste in your daily life too!
(Side note – I don't receive any compensation for recommending these products, I'm just sharing my favourites, discovered through trial and error, in the hope it makes your transition to plastic-free bathroom products easier.)
9. Reusable shopping bags
Even if you aren't planning any shopping sprees, you won't regret stuffing a few reusable shopping bags into your luggage before you leave home. So handy for grocery shopping, taking a few essentials to the beach or pool, separating clothes for the laundry and stowing dirty shoes. Reusable bags are sturdier than their disposable plastic counterparts so they'll outlast your trip. Choose a washable bag for muckier jobs then you can chuck it in with the next wash load and it'll be just like brand new.
Do you have any other ideas for using less plastic on your travels?
We'd love to hear them. Please share them in the comments below.
#LessPlastic #LessOceanPlastic #BringYourOwn #ReusableRevolution
Support our work and help spread the word about ocean plastic.
You can order printed copies of our posters and postcards to display at your workplace, school or in your community, or to hand out to friends, or use as educational materials.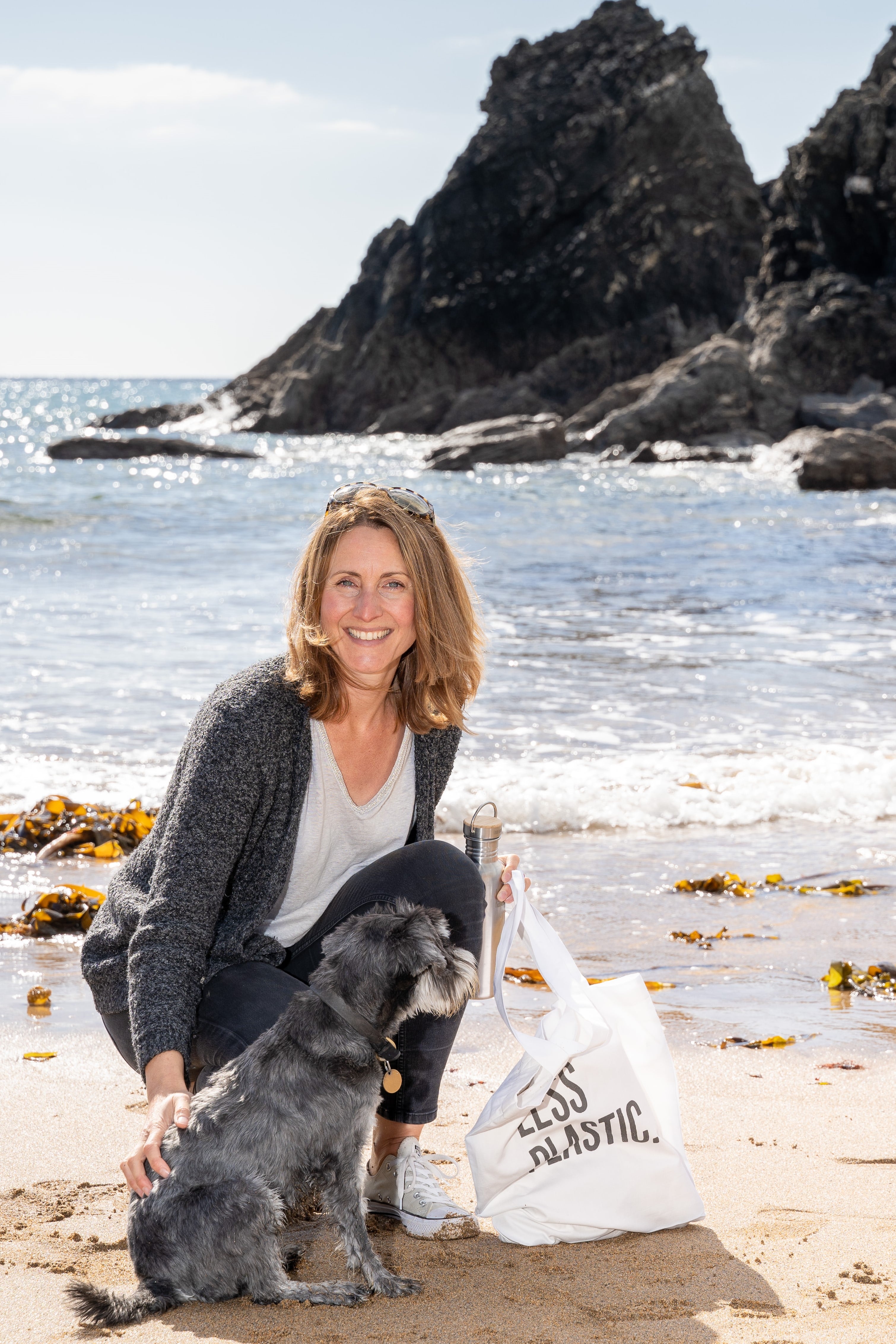 Amanda Keetley is a professionally qualified Marketing expert with over 20 years' experience, specialising in strategy and communications.
She founded Less Plastic in 2015 to raise awareness of the ocean plastic crisis and inspire individuals, organisations & communities around the world to use less plastic. She has brought the "less plastic lifestyle" to a wide audience via her blog, infographics and social media following.
Amanda wrote the world's first book to help businesses reduce plastic waste,  called Plastic Game Changer, which features her five-step framework to accelerate plastic reductions plus invaluable insights and best practice case studies. She offers talks & workshops, consultancy and infographics to inspire positive change.
In her spare time she organises monthly community beach cleans and also loves dog walks, yoga, kayaking, snorkelling, and the thrill of running into the cold sea with no wetsuit!
You can find her on Instagram, Facebook, Twitter and LinkedIn.