I was looking at a pair of tiny green islands protruding from the Caribbean Sea. Our guide explained that they were far bigger below the surface – what we could see was just the tip of two underwater mountains, providing sheltered water where all manner of marine life thrived.
I peered down at the shimmering sea. From where I stood, no visible clues betrayed what lay underneath. But the sun was hot and the water looked inviting, so I was eager to jump in. We put on our snorkelling gear and tumbled off the side of the boat.
As I ducked underwater I was astounded. Slipping beneath the surface was like entering another world. I literally couldn't believe my eyes. It was truly the most beautiful sight I've ever seen.
The vivid colours and distinct patterns of tropical fish darting between rocks created a constantly evolving, spectacular display. Luminous fish weaved through intricately shaped corals, sponges, and seaweed. Multi-coloured shoals let us swim peacefully alongside them in their strange and wonderful underwater habitat.
I couldn't get enough, it was one of the most incredible experiences of my life. I felt completely connected to nature and I wanted to never leave. But, of course, I eventually had to.
I've always loved the sea, and nature, but this experience (in February 2019) took it to a new level. Knowing that there are such amazing places left on our planet that aren't yet completely ruined by humans, has made me more determined than ever to do everything in my power to protect them.
I was lucky not to see any plastic in the sea that day, but that doesn't mean it wasn't there. I'd seen plenty of rubbish on land. The roads and wooded areas that ran alongside the beaches were strewn with litter. Without a massive organised clean up effort, and of course action to stop more single-use plastic litter accumulating there, all that mess will eventually end up in the sea.
If we had analysed water samples from the coral reef we would have undoubtedly found microplastics. They have been found everywhere scientists have looked; from the darkest depths of the Mariana Trench to the remotest reaches of the Arctic.
We don't yet know how dangerous these are to fish, other marine life, and ultimately us. But we do know they absorb other industrial pollutants in the ocean, such as PCBs, that were banned in the 1970s but still persist in the marine environment today. And we know that these toxins compound as they move up the food chain.
Many of us watched the poignant scenes in Blue Planet II, of a grieving mother whale hugging her dead calf, unwilling to let go. She had been carrying it around for days. Sir David Attenborough thought it was probably poisoned by her contaminated milk, caused by industrial and plastic pollution in the sea. The next large mammals to be affected could be us.
We don't have to travel to the Caribbean, the Arctic, or the infamous Great Pacific Garbage Patch to see evidence of how plastic is polluting our planet. We can see it any time we go for a walk near our homes or work. We use too much plastic, so it is spilling out into nature. And because it lasts for hundreds of years, the problem is compounding daily.
Yet, widespread plastic pollution is a relatively recent phenomenon. Twenty years ago, you wouldn't expect to find plastic litter every time you went to the beach or a remote natural place. Today's children are growing up seeing plastic in nature as normal, in a way that most adults never had to.
The equivalent of a truck-load of plastic enters the oceans every minute.
When plastic gets into the sea it causes havoc for marine birds and wildlife; entangling, choking or starving them, as it fills their stomachs leaving no room for real nutrition.
Whilst the suffering happens at sea, the problem starts on land, with us and our everyday actions. So, the solutions lie with us too and a shift in thinking, leading us to make better everyday choices.
"We need to respect the oceans and take care of them as if our lives depended on it. Because they do."
– Sylvia Earle
Single-use plastic is convenient in the short term but it's not logical to use a material designed to last forever for a product designed to be used once. Do we want to continue prioritising the fleeting convenience that a piece of single-use plastic offers over protecting the long-term health of people and planet?
If we are going to have any chance of saving the beautiful natural places still left, for the sake of our survival as well as our enjoyment, we have got to stem the flow of plastic pollution.
And the only way to do this is to tackle it at source. We can turn off the plastic production tap, by reducing demand through learning to live with less plastic.
We are only on this planet for a short time. There's no escaping the fact that the clock is ticking for each and every one of us. So let's do something important, something that really matters with our limited time. Let's leave a more positive legacy for today's children to inherit.
"Everyone has power. But it doesn't help if you don't use it."
– Sylvia Earle
Individual actions
As an individuals you can reduce your personal plastic usage by:
Becoming aware of the plastic you use in your daily life (opening your eyes to it)
Resetting your priorities – valuing your long term health and that of the planet over convenience (by making time to drink-in, make your own lunch, buying your groceries locally, etc.)
Learning new habits so that using less plastic becomes a mindset (by never leaving the house without your reusable bag, bottle and cup like you wouldn't leave home without your phone, keys, and wallet)
Here are 9 ways you can reduce ocean plastic in your personal life…
Could you spend a moment reflecting whether you are already doing any of these in your life?
Regardless of whether you are at the beginning of considering how you could use less plastic, or your plastic avoidance skills are advanced…
Do any of these tips jump out as things would be willing to try?
The personal pay-offs for using less plastic include:
Saving money (you will buy less stuff)
Being healthier (you will eat more 'real' food and less packaged stuff, also reducing your exposure to the toxins in plastic which have been proved to cause hormonal imbalances and cancers)
Having less rubbish to take out on bin day (a practical bonus!)
Also feeling better doing something about the plastic crisis rather than feeling despair
Once you see the benefits, for you personally as well as the planet, choosing to use less plastic will become something you commit to, it will become part of your identity.
You can join the growing number of people trying to make a difference by using less plastic at work and in their personal lives, by making a #LessPlasticPledge – click here to make yours, it only takes a few minutes but the positive impacts of reducing plastic waste will last for centuries.
Organisational-level actions
Whilst we can all make a difference as individuals, any action you take at organisational-level has the potential to be game-changing, because of the scale of what your organisation does.
The fact is, most organisations use too much plastic. It's become a cheap, easy, quick-fix habit; but it's NOT a necessity.
It's time to challenge yourself and your colleagues to think more creatively, to reduce plastic use in your organisation.
It's not rocket science. Being a Plastic Game Changer at work involves:
Taking responsibility for the plastic waste your organisation generates
Innovating to significantly reduce plastic use
Creating a ripple effect of change among colleagues, customers, suppliers, competitors, your industry and community
And it's perfectly possible to make your plastic reduction project cost-neutral, or even benefit from cost savings and/or increased revenue derived from using less plastic.
Here are 9 ways you can reduce ocean plastic in your workplace…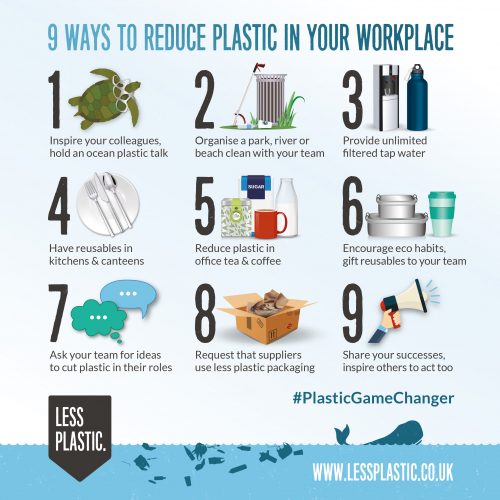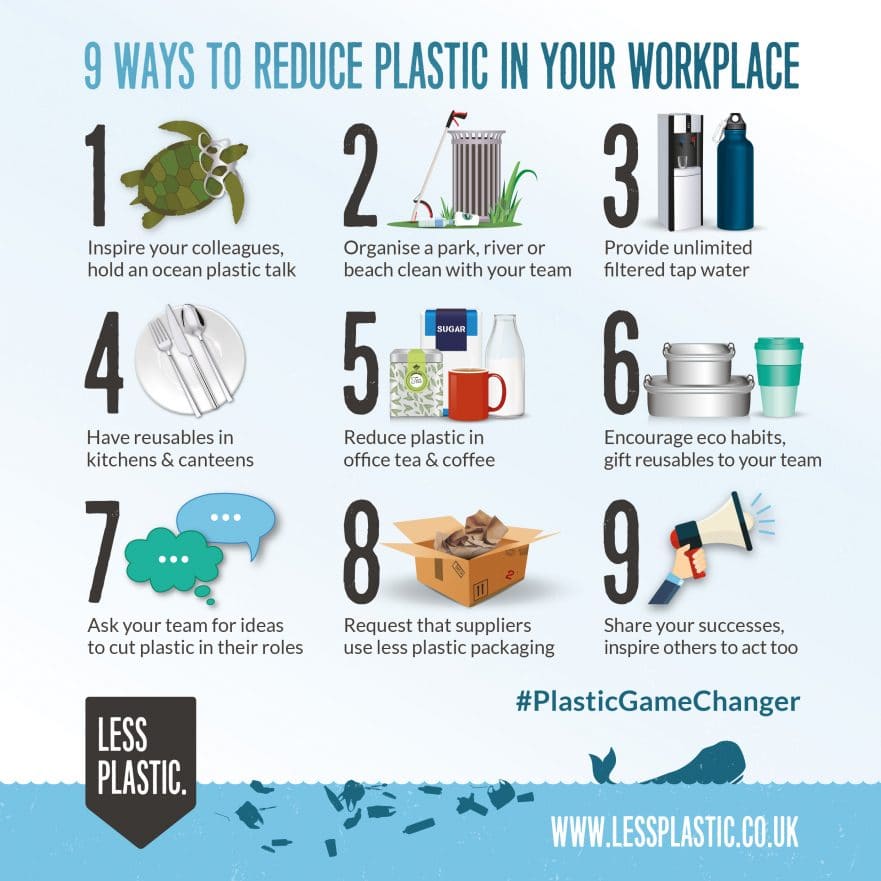 As well as being the right thing to do, for people and planet, there is a sound business case for reducing plastic in your organisation, including:
Being a leader in your industry
Pre-empting future legislation to ban single-use plastic
Saving money, increasing efficiencies & cutting business waste costs
Attracting & keeping eco customers & employees
Gaining external recognition (awards/PR coverage) for your green practices
Given the many benefits of reducing plastic in your organisation, could you take a moment to think of one thing you could commit to personally changing within the scope of your role:
this week?
this month?
this year?
Could you write them down now and commit to them?
Maybe you'd like to publicly share them on social media to make yourself more accountable?
You can join the growing number of people trying to make a difference by using less plastic at work and in their personal lives, by making a #LessPlasticPledge – click here to make yours, it only takes a few minutes but the positive impacts of reducing plastic waste will last for centuries.
Feel free to tag @LessPlasticUK and use the hashtags #LessPlastic #LessPlasticPledge and #PlasticGameChanger  – I'd love to hear of your plans!
If you'd like support fast-tracking the implementation of plastic reductions in your organisation – see our consultancy products.
You will also find our book 'Plastic Game Changer' an invaluable resource.
Other ways you can make a difference
In addition to reducing your personal and organisational plastic use, there are many other ways you can make a difference to the ocean plastic crisis.
Here are some more ways you can get involved in the Less Plastic cause.
YOU have the power to make a difference to plastic pollution.
But if we are going to protect the beautiful places left on our planet, there's no time to lose.
Make a meaningful contribution to humanity by pledging to use less plastic in your life and at work, starting today!
"People ask: Why should I care about the ocean? Because the ocean is the cornerstone of earth's life support system, it shapes climate and weather. It holds most of life on earth. 97% of earth's water is there. It's the blue heart of the planet — we should take care of our heart. It's what makes life possible for us. We still have a really good chance to make things better than they are. They won't get better unless we take the action and inspire others to do the same thing. No one is without power. Everybody has the capacity to do something."
– Sylvia Earle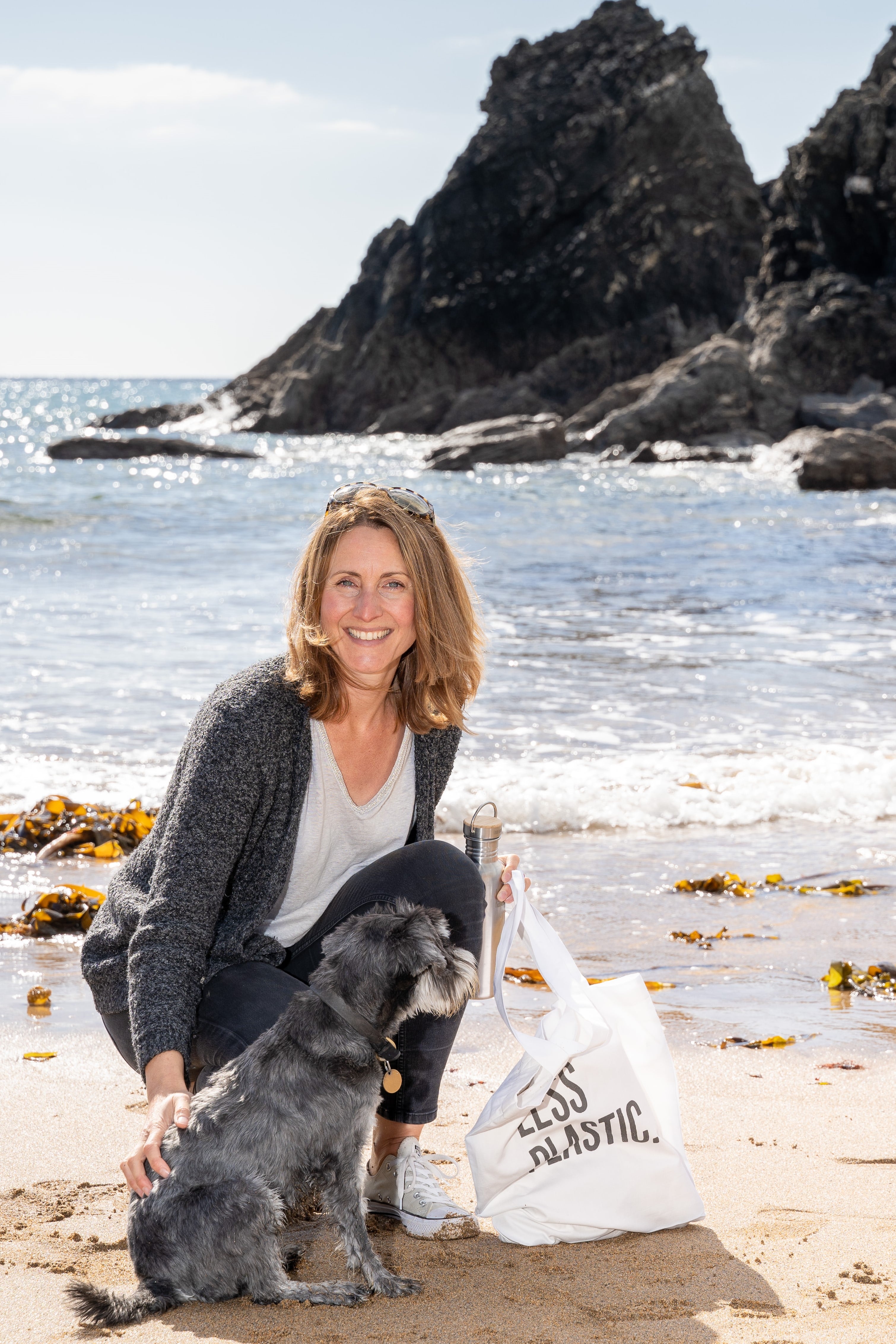 Amanda Keetley is a professionally qualified Marketing expert with over 20 years' experience, specialising in strategy and communications.
She founded Less Plastic in 2015 to raise awareness of the ocean plastic crisis and inspire individuals, organisations & communities around the world to use less plastic. She has brought the "less plastic lifestyle" to a wide audience via her blog, infographics and social media following.
Amanda wrote the world's first book to help businesses reduce plastic waste,  called Plastic Game Changer, which features her five-step framework to accelerate plastic reductions plus invaluable insights and best practice case studies. She offers talks & workshops, consultancy and infographics to inspire positive change.
In her spare time she organises monthly community beach cleans and also loves dog walks, yoga, kayaking, snorkelling, and the thrill of running into the cold sea with no wetsuit!
You can find her on Instagram, Facebook, Twitter and LinkedIn.