Doing good is good for Business
Recent research shows that customers today strongly believe that doing something good for the world should be part of a company's core business plan.
Reducing plastic waste generated by your business delivers obvious benefits for the environment, but did you know it makes good business sense too?
A new report from environmental law group, ClientEarth, highlights that businesses face serious risk of litigation from their involvement in creating plastic waste, and should therefore act urgently to reduce their plastic footprint to prevent reputational and material damage.
In addition to averting litigation, there are many business benefits to be derived from using less plastic, including: cost savings, efficiency improvements, enhanced brand reputation, more engaged employees and increased sales.
Plastic pollution is one of the biggest environmental threats of our times.
Find out more about our consultancy services to help you reduce plastic in your business.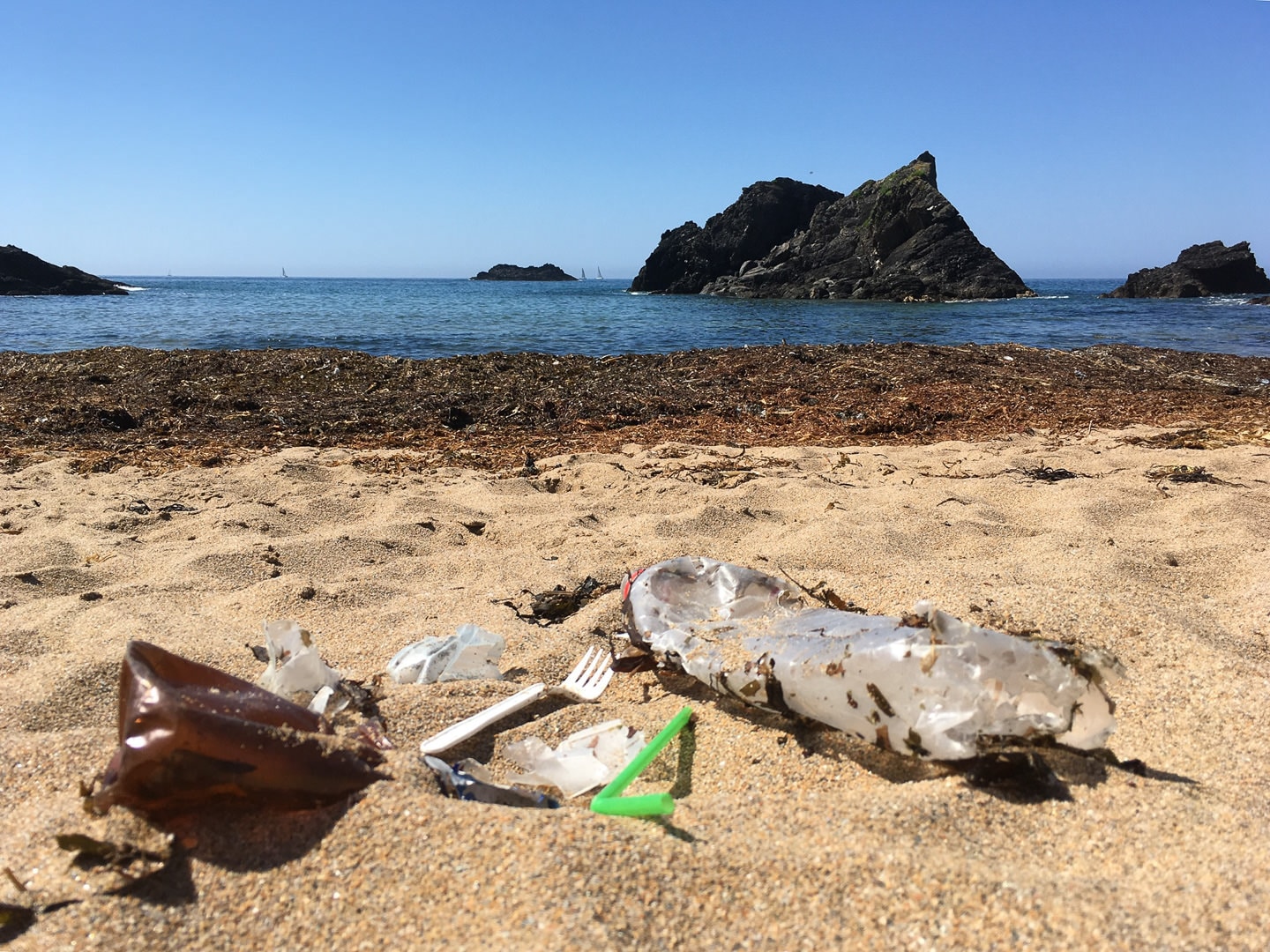 In the last couple of decades, businesses all over the world have come to rely on plastic for storing, transporting, protecting, displaying and serving their products.
This versatile, lightweight, flexible, moisture resistant, durable, inexpensive material now coats almost everything we buy. Products not encased in plastic packaging are the exception rather than the rule.
Globally, we are now producing 320 million tonnes of plastic every year - the same weight as every human on Earth! - and  40% of this is for single-use purposes, used just once before being thrown away, destined to pollute for centuries.
Meanwhile, more than 8 million tonnes of plastic leaks into the ocean each year (mainly from land sources) – which equates to a truckload of plastic a minute!
This explosion in plastic use comes at a HUGE cost – both for our environment and for human health.
Every time we visit the beach we find washed up plastic, even without trying.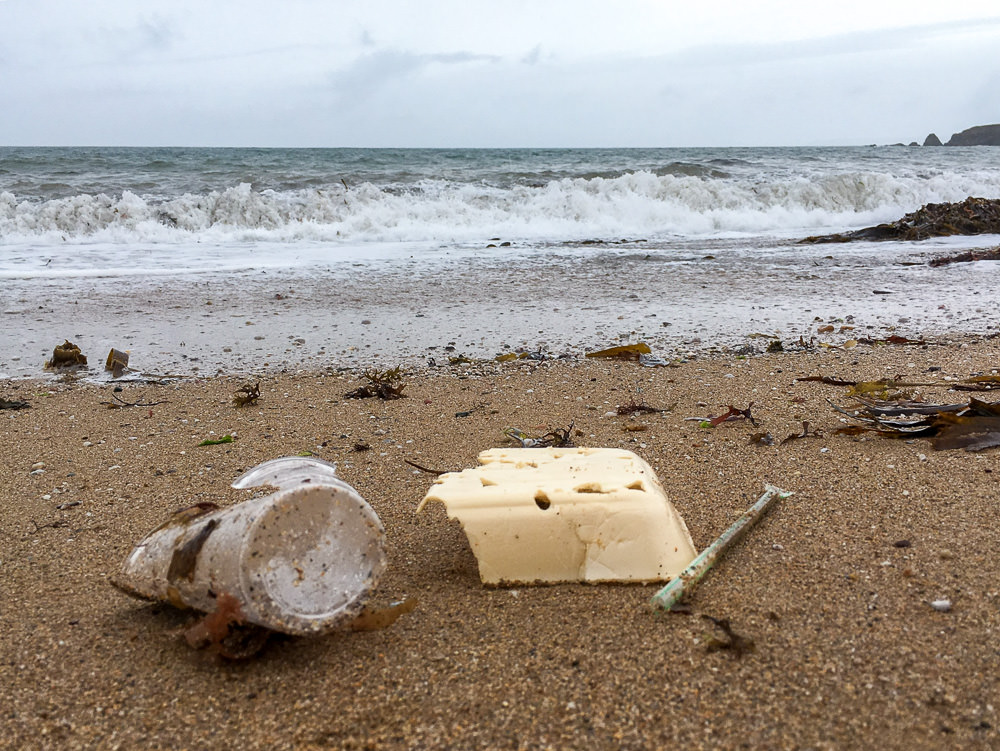 Single-use plastic is the worst kind of plastic. Useful on average for 11 minutes, these items will stay in our environment forever, slowly breaking down into smaller toxic pieces but never truly going away.
Our throwaway culture of convenience will not be able to continue indefinitely. It doesn't make sense for finite resources to be mined, manufactured and shipped to be used for a few minutes before becoming unwanted waste that is a burden to dispose of and ends up littering our natural spaces.
Forward-thinking businesses want to be part of the solution to tackle of ocean plastic, because it is the right thing to do AND because it makes good business sense.
Find out more about our consultancy services to help you reduce plastic in your business.
The business case to use less plastic
Be a leader in your industry
Lead the way by adopting sustainable practices that work for your business without costing the earth
Save money
Many of the disposable items you currently invest in can be replaced with reusable items that will save you from frequently buying and replacing stock
Reduce your waste disposal costs
Businesses face high costs for disposing of plastic and other materials, whether for recycling or landfill. Reducing the waste you generate will save you money as well as improving your green credentials
Attract & keep eco-friendly customers (and staff!)
Once a fringe movement, Green consumers are now a growing tribe of passionate, vocal customers whose loyalty is worth earning. If you actively show you are trying to do the right thing for the planet, they are very likely to become your most loyal advocates. The best employees are also attracted to sustainable businesses
Win recognition for your Green practices
Sustainable practices will help you receive recognition from independent bodies such as Green Tourism, which gives you great positive social media and PR stories to share with customers and suppliers alike, and raise your profile among new audiences
Avert future litigation
As the recent ClientEarth report highlighted, businesses that continue to generate plastic waste without deploying any significant reduction efforts face serious risk of litigation
How we can help your business use less plastic
Infographics
You can order our eye-catching infographics  - designed to inspire behaviour change - to display in your workplace, at a conference, or to use as a basis for staff training.
Talks & Workshops
We can come into your organisation to give a talk or run a workshop to enable your colleagues to successfully use less plastic in both their professional roles and their personal lives. This is a great way to incorporate the UN's SDGs in your business strategy and will also help you meet your CSR and Employee Engagement objectives. Contact us to check availability.
Plastic Game Changer Book
Our founder, Amanda Keetley, recently released a book to empower professionals to reduce plastic waste in their organisations. It features a practical framework to accelerate single-use plastic reductions; inspiring case studies

from businesses already leading the way; and invaluable tips such as 'how to get your boss on board', 'navigating the alternatives' and 'the business case for using less plastic'.

Consultancy Services
If you require consultancy support to enable your business cut its plastic usage, we've devised effective consultancy packages to accelerate your plastic reductions, providing you with a framework for measuring your "plastic savings", and means of communicating your successes with employees and customers to maximise the positive benefits for your business, whilst inspiring others to follow your lead. Get in touch to find out more.
Become a Partner
We're currently seeking like-minded partner organisations who would like to explore becoming a partner by working with us, in a variety of ways, to meet their business & ESG (environmental, social & governance) objectives while supporting our work, driving inspiring environmental behaviour change.
Get in touch to find out more.
Or scroll down to see some of our resources below.