Ocean plastic has featured in headlines a lot recently. We're only just beginning to understand the full extent of the problem and its repercussions on our environment, wildlife, eco-systems and also the impact on human health.
Meanwhile global plastic production is increasing at an alarming rate – we've manufactured more plastic in the last 10 years than during the whole of the last century – and incredibly, half of all plastic produced today is destined for single-use purposes.
There's a huge mismatch between the life-span and use-span of plastic. A typical single-use plastic bag is used for around 11 minutes, yet it's estimated to take over 450 years to break down. Multiply that by billions of plastic bags handed out all over the world every year, and it doesn't take long to work out we're accumulating a BIG problem.
There is progress being made in some areas. The 5p plastic bag charge that was introduced in the UK in 2015 has cut plastic bag usage by 85% nationwide, which has significantly reduced the number of plastic bags spotted on UK beaches. However, unfortunately, the new charge doesn't apply to smaller independent stores.
In our hometown (Kingsbridge in South Devon) we're lucky to enjoy a wide selection of family-run independent stores on our doorstep. But a survey taken last summer highlighted a downside – our local stores were still handing out around 2,700 plastic bags in an average week! So we felt compelled to take action…
Along with a group of fellow activists, we decided to tackle our town's plastic bag usage by launching a new Borrow-A-Bag scheme.
As customers, we all have times when we forget to bring our own bag, or when we make spontaneous purchases and don't have a reusable bag with us. Sometimes we can manage with no bag at all, but if it's raining, or we're buying multiple items, it can be difficult to refuse a single-use plastic bag.
To address this, we've launched a new Borrow-A-Bag scheme, with the support of local residents, local businesses, the Tourist Information Centre, Town Council and District Council.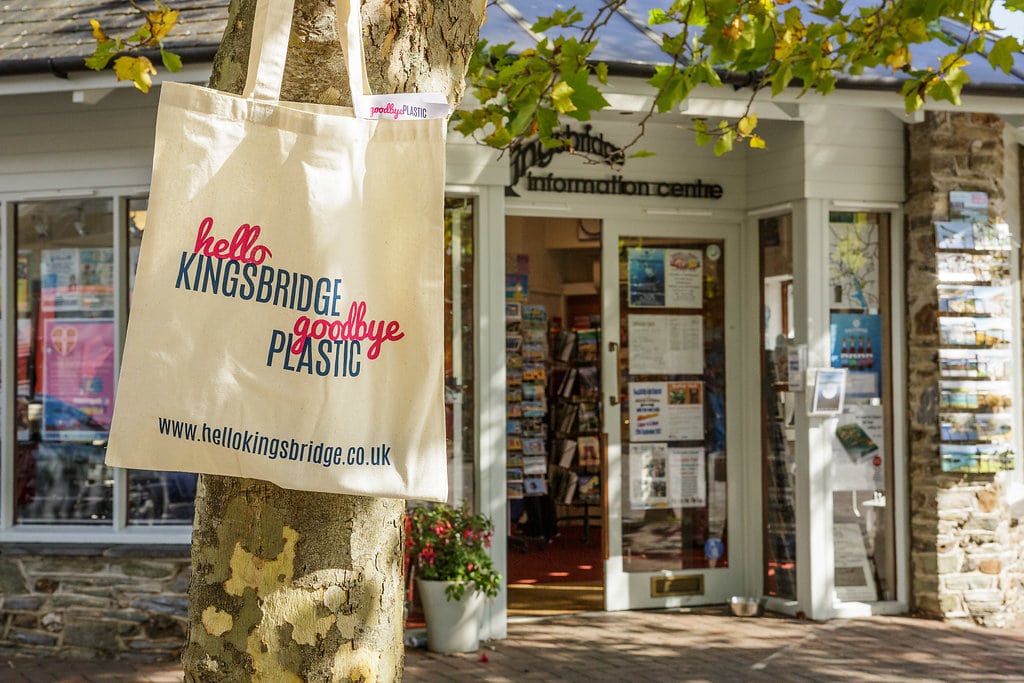 How does the Borrow-A-Bag scheme work?
Participating stores are given a stock of reusable cloth bags to offer customers when they haven't got a reusable bag with them
The bags are easily identified by a ribbon with 'Hello Kingsbridge, Goodbye Plastic' stitched onto their straps
(Thanks to all the lovely people in our community who contributed their time and sewing skills to make this happen!)
Customers are free to Borrow-A-Bag to take their goods home
Next time they are in town they return the bag to either the Tourist Information Centre, or any participating store
There is no charge for Borrow-A-Bag
The scheme works on trust and the belief that the majority of people would like to see it work
The bags were kindly financed by donations from the Town & District Councils. If we run out of bags, we plan to organise community group sewing sessions to make new bags from old clothes, or hold regular 'bag amnesties' where the community donates any spare reusable bags stashed at home to be used in our scheme (with our branded ribbons sewed on for identification purposes)
The only rules are to return the bag in the state you would wish to receive it in. For health and safety reasons the bags are not to be used for raw meat or fish purchases, so will not be available at butchers' shops or the fishmonger's
Could you launch a similar scheme to help reduce plastic bag usage in your town?
Once the Borrow-A-Bag scheme has been running smoothly for a few months we have plans to launch more initiatives to reduce single-use plastic in Kingsbridge. Watch this space…!
If you own or manage a shop in Kingsbridge and would like to join the Borrow-A-Bag scheme, please get in touch.