This is a common question we get asked, and when we first started noticing plastic bottles and bottle fragments washed up on the beaches near us, we asked it too – how exactly do plastic bottles end up in the ocean?
If you live in the UK, or any developed country, and you're careful to make sure your single-use plastic bottles go in the recycling or even in the landfill bin, surely they won't end up in the ocean?
Well, we did some research and this is what we discovered…
Unfortunately, global recycling rates are disappointingly low. Only 9% of plastic of all plastic ever produced has been recycled. The rest has either gone to landfill, been incinerated or has escaped into our environment.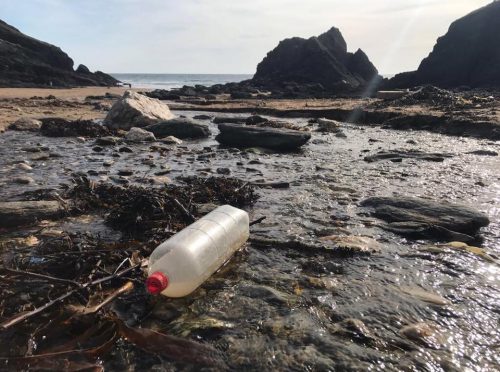 Plastic bottles are lightweight and easily blow into rivers and streams that of course eventually lead to the oceans. Our landfills are overflowing, and our waste capture systems are imperfect. Everything leads to the sea in the end.
In recent years, much of the West's plastic recycling has been outsourced to China, via shipping containers across the ocean (another opportunity for it to escape as it's transported across the globe). The documentary, Plastic China, uncovers the shocking conditions of the families working at some of these 'recycling' centres, and reveals that much of the plastic ends up incinerated, dumped or escaped into rivers, which of course lead to the oceans.
From January 2018, China has announced it will no longer accept the West's plastic recycling, so we are very likely to have a bigger issue with a backlog of plastic waste, and yet more single-use plastic bottles escaping into rivers and oceans worldwide.
When it comes to plastic bottles that actually do reach proper recycling centres, current technology doesn't allow for them to be recycled into new plastic bottles as many of us would assume. Instead they are 'downcycled' into fibres that can be used for fleeces, textiles or carpets. This then is the end of their useful life. Most recycled plastics aren't recycled more than once.
Meanwhile, the colour of the plastic bottle is all-important when it comes to how useful a plastic bottle will be for recycling. Clear plastic bottles are worth at least 5 times more than coloured plastic. Manufacturers can help increase the recycling rates of their plastic bottles by taking this into account at the design stage, reserving their colourful brand differentiation for labels, not bottles.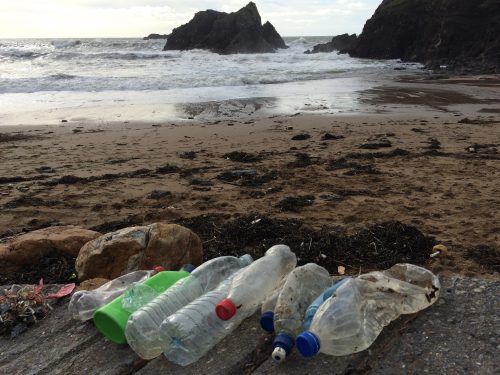 So what can we do to prevent plastic bottles ending up in the ocean?
There are initiatives to help improve plastic bottle recycling rates. The Surfers Against Sewage Message in a Bottle campaign is calling for the UK government to introduce a Deposit Return Scheme which would add a small economic incentive (e.g. 10p) for consumers to return plastic bottles to retailers to help keep them in a closed-loop recycling system and prevent them escaping into the environment. Giving value to these bottles would significantly increase capture rates and result in plastic bottles being returned in a more pristine condition which is more useful for improved food-grade recycling, and the potential for a plastic bottle to be recycled into another plastic bottle in future.
Meanwhile, we believe that manufacturers have a responsibility to stop using single-use plastic for packaging their products, and some are beginning to take this on board.
Better options include glass, which can be recycled indefinitely, and aluminium. Aluminium cans require minimum sorting, but plastics need to be sorted and separated by their resin identification code, which is a very labour-intensive process for such a cheap product.
This is why virgin plastic is often chosen as the most cost-effective option, even though its excessive use has such devastating consequences for our environment, as highlighted in the recent Blue Planet 2 series.
Soft drinks manufacturers make huge profits from selling drinks in plastic bottles, but have so far taken little responsibility for the plastic pollution crisis that is unfolding in our oceans. This needs to change urgently, and one way we can help make this happen is by supporting campaigns such as Greenpeace's Don't Let Coke Choke Our Oceans.
However, the truth is that if you buy a new single-use plastic bottle, you're creating demand for new plastic to be produced.
The only way we can really ensure we aren't personally contributing to the problem of plastic bottles in the ocean is to resolve to STOP buying single-use plastic bottles. We've written before about how tap water is healthier and more eco-friendly than bottled water.
If you enjoy soft drinks, look for options available in glass bottles or aluminium cans that are easier to recycle.
You can also try to always carry a reusable bottle with you, or wait to have a drink in a glass from a tap when you reach your destination, like we always used to manage in the old days!
Refusing single-use plastic bottles is the best way to stop plastic bottles ending up in our oceans. Will you start today?
#UseLessPlastic #LessOceanPlastic