Last month I attended an Innovation Forum on how business can tackle ocean plastic pollution – a two-day multi-stakeholder forum where businesses, government, innovators and NGOs came together to discuss and debate the most important issues and collaborate in an effort to improve practices and work to end ocean plastic.
Attendees and speakers included Greenpeace, Plastic Pollution Coalition, UPSTREAM, Ocean Conservancy, WRAP, Zero Waste Europe, Ikea, Sky, Surfdome, HP and many more. The event was held under The Chatham House rule of confidentiality to promote open, honest exchange of views and ideas, so I won't quote anyone directly.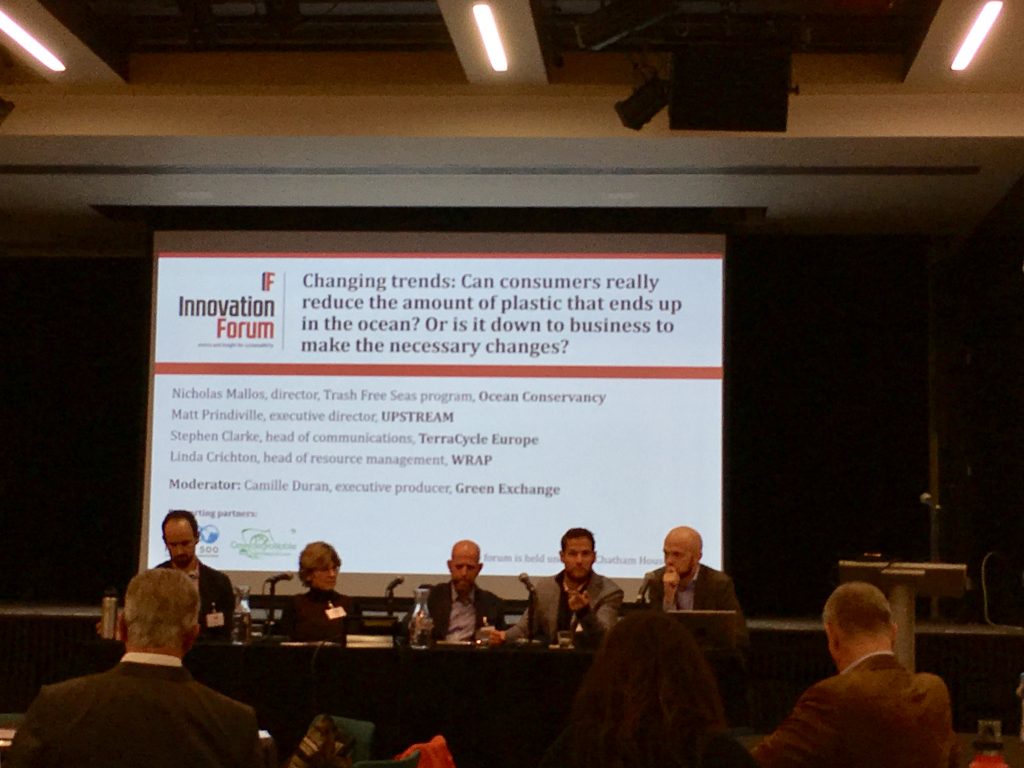 Here are some of the main insights I took away from the event:
"We have a responsibility, every one of us. We may think we live a long way from the oceans, but we don't. What we do here… has a direct effect on the oceans – and what the oceans do then reflects back on us." – Sir David Attenborough
"We need disruptive innovation to challenge how we deliver goods & services. We need to focus on REFUSE, REDUCE and REUSE – we can't simply RECYCLE our way out of the ocean plastic crisis"
"There is no away…"
"Plastic pollution is a design choice. We need to design single-use plastic out of products and packaging"
I came away from the event optimistic that there is a genuine desire among the majority of individuals, businesses, NGOs and government departments to tackle the ocean plastic issue and look at ways to reduce plastic waste.
The key challenge is to reach agreement on the most effective and impactful solutions, and to translate the ideas and intentions into meaningful action very quickly, as ocean plastic pollution is accumulating daily.
To dive deeper on this subject, I recommend reading about the Ellen MacArthur Foundation's work, in particular, their New Plastics Economy – an ambitious, three-year initiative to build momentum towards a plastics system that works, applying the principles of the circular economy, rethinking and redesigning the future of plastics.
If you run a business and would like to explore reducing your plastic usage and waste, we can help. Find out more here – use less plastic for business success.
#UseLessPlastic #LessOceanPlastic