Summer is here which means it's the season to head to a field to dance the weekend away in your wellies, listening to your favourite live acts. The UK hosts an incredibly eclectic mix of festivals every year, catering to all music tastes, but an enduring negative aspect in recent years has been the amount of plastic waste they generate.
Many festival organisers are working hard to reduce their impact, but festival-goers can play their part too, taking steps to reduce the amount of waste left behind once the party's over. It requires a little more forward-planning and a conscious decision to prioritise your future health (microplastics are shaping up to be the next human health disaster), and the health of our amazing planet, over convenience – but it's really not that hard.
Here are NINE awesome ways you can use less plastic as a festival-goer…
1. Bring a bottle for unlimited water refills
Plastic water bottles are one of the most common and most unnecessary items of plastic we find washed up on our beaches. In the UK tap water is safer (more regulated) and FREE! If you wear a little backpack it's easy to have a water bottle on you at all times. Most festivals offer some way to refill water bottles for free.
Klean Kanteen water bottles are durable and stylish and ethically made using responsible materials. They also partake in 1% for the Planet, donating a portion of their sales to good causes such as Paddle Against Plastic, and also Frank Water who will be providing unlimited chilled water refills at many UK festivals this summer as well as a vital supply of safe clean water for communities in India and Nepal. You can even buy a handmade Indian bottle holder if you don't have a bag and want to be hands-free.
2. Eat with reusable or compostable serveware
Vote with your wallet when it comes to choosing where to eat at the festival. Too many food stalls still rely on cheap polystyrene containers, plastic cutlery and individual plastic sachets for sauces and condiments. You can help change this trend by refusing to buy from them. Seek out the food providers who have put more thought into the sustainability of their food packaging and serveware, and what happens to them after their short useful spell.
Reusable is always best, so you could fill your own takeout lunch pots and carry a travel spork. Alternatively, if it must be single-use, try to choose stalls using serveware that will compost naturally if they escape as litter; such as carboard boxes, paper plates, wooden cutlery and paper napkins. Compostable plastic is only really useful if it reaches high heat composting conditions. Check whether the bins are labelled differently for food/compostable waste. If it's all going in the same bin then compostable plastic is just as bad as standard single-use plastic.
3. Carry a cup for coffees, smoothies & pints
Unfortunately, not every festival has implemented a reusable cup deposit scheme yet. So if you want to enjoy a few drinks without the eco-guilt why not carry your own cup? Think about what you're most likely to want to drink and then find a multi-purpose cup that will see you through the whole weekend. If it is the right size for a pint or a cocktail, chances are it can double up for your morning coffee and smoothies too. Just pop the lid in your pocket or bag when it's not needed. You can use a little water from your water bottle to rinse it out between drinks and you're all set!
You'll feel great knowing you've prevented so many single-use cups from going to landfill over the weekend, and if people notice what you're doing and decide it's a good idea, just think of the positive ripple effect you can have! Klean Kanteen offers an amazing range of multi-purpose insulated cups that will keep hot or cold drinks at the right temperature.
4. Sparkle with plastic-free, eco-friendly bio-glitter
Many festival-goers love a bit of glitter to get them in party mood, but discovering that traditional glitter is made from microplastic that permanently pollutes the environment is one of the quickest party mood-killers.
Eco-Stardust is a Bristol-based company that creates plastic-free, eco-friendly, plant-based bio-glitter that breaks down naturally, even in water – so you can sparkle and shine all weekend long without any eco-guilt dampening your spirits.
5. Reusable makeup remover or flannels instead of wipes
Most disposable wipes are made from plastic and are un-flushable. Although marketed for convenience, they add up to be an expensive habit, both for the user and the environment.
You can save money, have healthier skin (most wipes contain chemicals) and save the planet by opting for reusable makeup remover pads or flannels for your festival (and home) beauty routine. Face Halo makeup removers only need a little water to remove even the most glamorous eye makeup and bio-glitter. A simple flannel and soap bar combo also works a treat – grandma knew best!
6. Rent, borrow or buy a quality tent
In recent years there has been an increase in festival-goers buying cheap 'festival tents' that they leave behind when the party's over. Possibly they think that the organisers will find a new home for them by donating them to charity, but the reality is that these tents get sent straight to landfill.
The production and shipping of 'single-use tents' represent an enormous waste of our planet's limited resources, and then they are destined to languish in landfills for centuries. The sustainable solution is to take a quality, reusable tent – either rent, borrow or buy it – and take it home afterwards so you can use it again for many more years of camping fun.
7. Plastic-free tooth care
Plastic-free tooth care is even better than traditional tooth care when you're camping or on your travels, as it is lightweight, mess-free, easy and cheap.
If you haven't discovered Denttabs yet, I recommend you give them a try. They are small, white, minty toothpaste tablets with fluoride that you chew between your front teeth, then add a little water to your bamboo toothbrush that foams while you brush. Georganics also offers a range of plastic-free toothpaste in glass jars.
8. Choose plastic-free snacks
You may not be able to resist plastic-encased snacks all weekend, but every time you make the effort to pick something plastic-free adds up to make a positive impact. Fruit in natural 'packaging' (i.e. its own skin!) is the easiest and healthiest plastic-free snack.
You could also bring nuts and dried fruit bought from a zero waste store if you have one near home. Or chocolate in foil and paper. Alternatively, choose snacks on offer onsite at the festival that come plastic packaging-free, such as a traditional ice cream cone or popcorn or chips served in a cardboard cone.
9. Wear a plastic activist T-shirt
You can help raise awareness of the ocean plastic crisis while you party by wearing a plastic activist T-shirt! Less Plastic has recently launched a new range of sustainable fashion for ocean-lovers in collaboration with Rapanui Clothing via Teemill.
The T-shirts are made using organic cotton and eco-friendly dyes in a factory powered by renewable energy, delivered with plastic-free packaging. The collection includes a brand, new circular Tee which is designed to be returned at the end of its life so it can be made into a new T-shirt, again and again and again – zero waste eco-chic at its best!
You can order a Less Plastic T-shirt or Tote bag here.
If you've cracked living with less plastic in your personal life, but want to help your company use less plastic, don't miss my new book, released earlier this month: Plastic Game Changer: How to Reduce Plastic in your Organization to Make a difference to Plastic Pollution. 
You can buy the paperback direct from me or the Kindle or paperback from Amazon.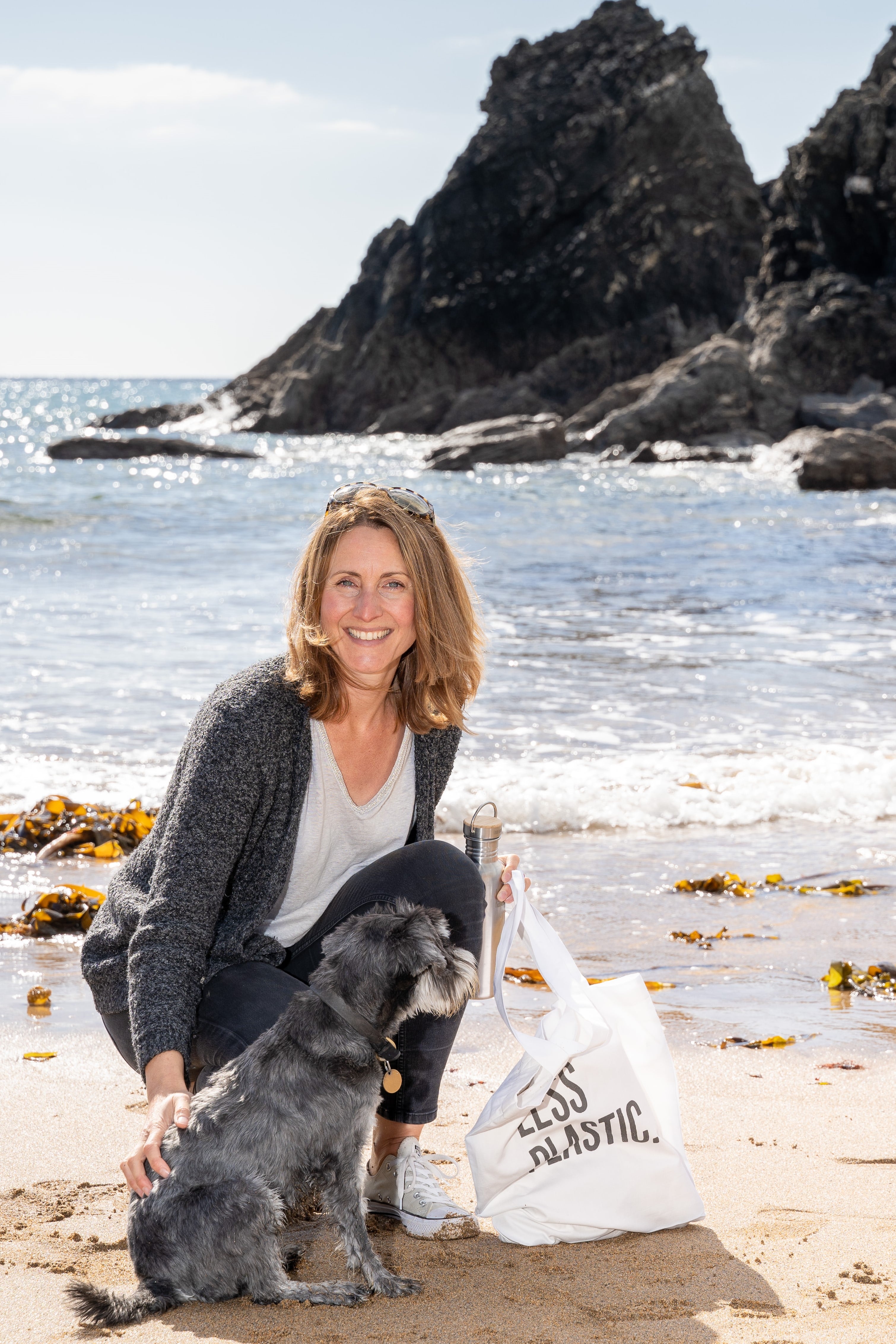 Amanda Keetley is a professionally qualified Marketing expert with over 20 years' experience, specialising in strategy and communications.
She founded Less Plastic in 2015 to raise awareness of the ocean plastic crisis and inspire individuals, organisations & communities around the world to use less plastic. She has brought the "less plastic lifestyle" to a wide audience via her blog, infographics and social media following.
Amanda wrote the world's first book to help businesses reduce plastic waste,  called Plastic Game Changer, which features her five-step framework to accelerate plastic reductions plus invaluable insights and best practice case studies. She offers talks & workshops, consultancy and infographics to inspire positive change.
In her spare time she organises monthly community beach cleans and also loves dog walks, yoga, kayaking, snorkelling, and the thrill of running into the cold sea with no wetsuit!
You can find her on Instagram, Facebook, Twitter and LinkedIn.