We were thrilled to be asked by the BBC Radio 4 'World at One' team to share our thoughts on Theresa May's 25 Year Environment Plan speech on Thursday 11th January 2018. In case you missed it, we thought we'd share them here too.
In our view the Prime Minister's speech was a great first step, containing lots of positive environmental messages coming from a government that is obviously keen to capitalise on  recent increased public awareness of the plastic crisis unfolding in our oceans, following the immensely popular Blue Planet 2 series and David Attenborough's call for the world to cut back on plastic usage to protect our oceans.
Less Plastic has been working hard, along with many other ocean-loving organisations, to raise awareness of the problems with society's addiction to single-use plastic and excessive use of plastic packaging, and the steps that individuals and businesses can take to reduce plastic usage.
Therefore it was gratifying to hear the Prime Minister focussing in on the issues too, and highlighting that changes in consumption need to happen to save our oceans from plastic pollution.
However, the plan's 25 year timescale does not reflect the urgency of the situation in our oceans.
The equivalent of a truckload of plastic enters our oceans every minute, and the accumulation of plastic is compounding daily with our inappropriate and excessive use of this durable material that is used for minutes, but will last in the natural environment for centuries.
Our inadequate waste infrastructures cannot cope with our excessive use of plastic, so that even when it is sent to landfill or recycling, too often it escapes and ends up in the oceans. Pollution is a design choice, and whilst we continue to manufacture it in vast quantities, it will continue to end up in beautiful places where we don't want to see it.
The Prime Minister's speech did not contain enough details about HOW the government envisages tackling our massive plastic problem.
Whilst individuals and businesses have an important role to play in reducing plastic usage – through using their purchasing power to make more sustainable choices and reduce demand – the government is uniquely placed to solve the problem very quickly with the introduction of laws and levies to discourage excessive plastic use.
We wanted to hear more details on how they intend to do this, to reassure us that there is a genuine desire to change.
We were happy to hear mention of the 5p plastic bag charge being rolled out to smaller shops, although this was a simple flaw in the original legislation that could have been solved a lot earlier. In our hometown we have lots of smaller shops that have continued to hand out free plastic bags since the new law took effect in 2015 (on average 2,700 a week on our small high street). This situation led us to work with fellow local activists to launch a Borrow-A-Bag scheme for when customers forgot their reusable bags. The extension of the 5p bag charge to small shops is welcome although long overdue.
We were disappointed that the Prime Minister didn't mention anything about the Latte Levy which we are keen to see come into force. The proposal is that coffee shops would start charging an extra 25p for customers requiring single-use coffee cups. Whilst many coffee shops have been incentivising customers to bring their own reusable cups by offering discounts, recent research conducted by Cardiff University revealed it is more effective to charge extra for disposable cups as humans are more motivated to change behaviours to avoid 'pain' (the extra charge) than to receive a 'reward' (the discount).
We also support taxing other single-use plastic items for the same reason – to help speed up behaviour change toward more sustainable practices – reusing and refilling.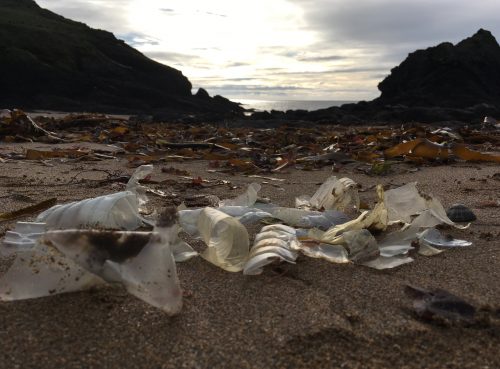 We were very surprised that there was no mention of plastic bottles in the speech. Single-use plastic bottles and plastic bottle fragments are the items we most often find washed up on our local beaches, which is no surprise given the world is getting through a million plastic bottles a minute.
We would like to see the government taking decisive action to reduce plastic bottle usage – such as committing to the introduction of a plastic bottle deposit return scheme to keep them in the recycling economy and also the enforcement of polluter pays legislation to encourage more sustainable bottle packaging design choices.
It was heartening to hear the Prime Minister call for supermarkets to make more efforts with reducing their plastic packaging, mentioning #APlasticFreeAisle, and Iceland's commitment today to become the first UK supermarket to go plastic-free with its own brand packaging by 2023, is hopefully just the start of positive news to come from forward-thinking businesses looking to reduce their plastic footprint in response to public pressure for plastic-free choices.
We're glad that the government is starting to take the issue of plastic pollution seriously, however there is no time to lose. Urgent intervention is required because 'business as usual' risks near permanent contamination of our natural environment by plastic pollution. The government needs to get to work implementing the laws and levies required to influence speedy positive change that will enable us all to use less plastic.
If you'd like to hear our founder, Amanda Keetley, speaking to Mark Mardell on the World at One (11/01/18) the recording is available for a month here – her 3 minutes of input starts from 22 minutes and 20 seconds into the programme.