We'd just popped to the beach for a quick walk in the winter sunshine, with a long list of weekend chores in the back of our minds. A busy road runs along the top of the beach, so the dog was on the lead until we reached the shore, but as soon as we let her off, she bounded straight back up towards the road, refusing to return to our calls.
I raced after her, up the pebble slope, breathless with the sudden exertion, but relieved that she'd slowed and was almost within reach. I saw she was tracking a scent.
I spotted the seal before she did. Sitting under the sea defences, it's dappled grey fur camouflaged against the rocks. Huge dark eyes staring right at me, and a mass of green fishing line tangled around its neck, with a few thin lines wrapped tightly around its flippers.
It felt surreal. I'd seen pictures like this hundreds of times, but to see this with my own eyes – to be in the presence of an entangled wild animal – was new to me. It could barely move, but was frightened and lifted its head to growl at us. I grabbed Pip by the collar and called James over to work out what we could do.
Our first reaction was practical; we know nothing about rescuing seals but we know a brilliant couple who do. I called Pete and Andrea Moore who run our local Forest and Beach school, and was relieved when they agreed to come as soon as possible; bringing towels, gloves, knives, and scissors to attempt to free it.
We decided James should walk Pip back to the car while I guarded the seal in case other walkers or dogs came past. This end of the beach was quiet, and I had around 10 minutes alone with her, sitting at a respectful distance, but looking into her eyes, willing her to know I was there to help. She snarled at me a few times and as she twisted uncomfortably moving her head into the shade of a rock, I could see the plastic fishing line dig deeper. She eventually settled and looked back at me, big black eyes, slightly weeping.
That's when my emotions kicked in. I cried for her, an innocent wild animal in fear and pain, with neither of us knowing if she would be OK. And I cried for all the other animals suffering a similar fate. And I cried with shame and frustration for what humans have done to our beautiful world.
After that, I think she warmed to me! It felt like she knew why I was crying. I felt a deep connection between us as I concentrated on radiating feelings of love towards her. I talked to her softly, told her I loved her, I was sorry she was suffering, and that help was on the way. It didn't free her, but I sensed it strengthened her.
James returned and stood where Pete and Andrea could see him and find us. By the time they arrived, she was in a less-than-ideal position, too close to the rocks, for easily cutting her free. We needed to plan a safe approach as we thought she'd try to bite when we got close.
Pete FaceTimed a few of his contacts, showing her position, entanglement, and injury so they could share advice. There was talk of driving her to a seal rehabilitation sanctuary a few hours away, so we'd have to wait for a transport cage and further help from the wonderful volunteers from BDMLR (British Divers Marine Life Rescue) before attempting to free her.
In the end, the seal set the agenda by shuffling away from the rocks and attempting to escape back to the sea. We had no choice but to act quickly. Someone threw a towel over her head, and another over her hind flippers, pinning her down firmly. She struggled at first, then relaxed as they set to work cutting the fishing line.
Cutting her free was mercifully quick, but next we needed lots of 'second opinions' on her neck wound from vets and marine biologists, both present and on the phone. Someone had disinfectant in the car so the group decided that would be good enough to clean her up, and seawater could do the rest. We agreed if she was strong enough to make it to the water's edge, then the best thing for her would be to recover in nature.
So we let go of her and stood back. She hesitated for a few moments while we held our breath. I walked to her right-hand side to encourage her to start moving in the right direction. And I'm convinced she looked back at me and said 'thank you' with her eyes before undulating her body down the beach to the sea.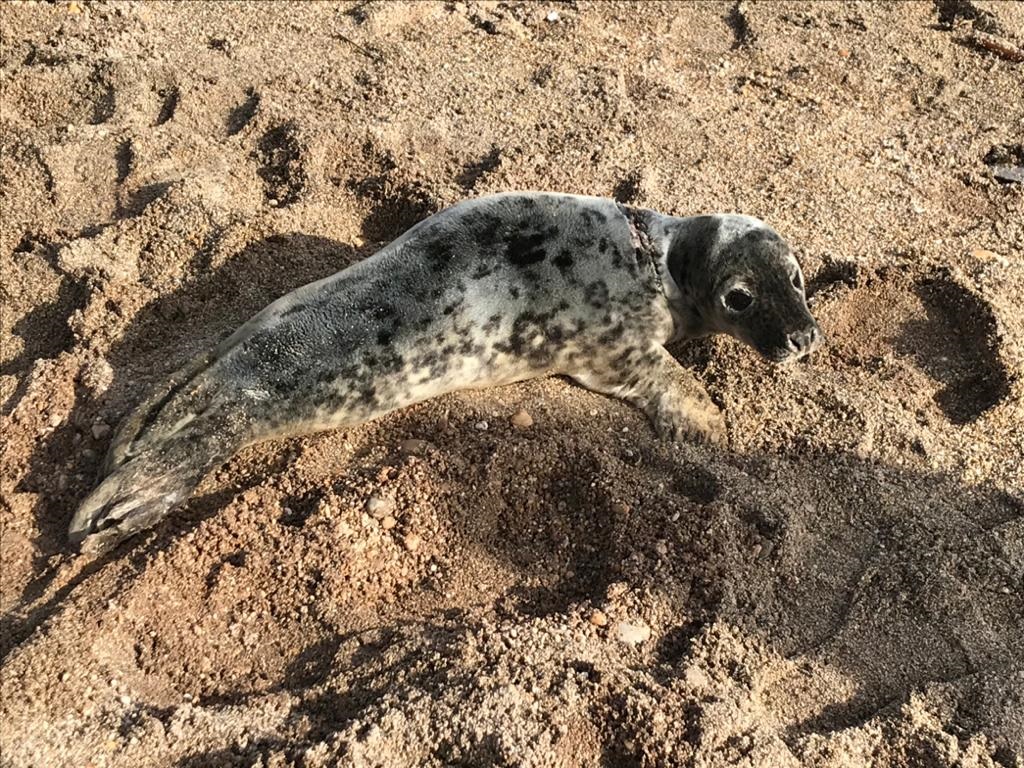 Helping to rescue that beautiful seal pup was one of the most rewarding things I've ever done. I love my work and have found purpose playing my part in raising awareness about the plastic pollution crisis, and inspiring positive behaviour change to reduce plastic waste. But nothing beats ground-level, in-person, real-life action.
Liking, commenting, and sharing is important – it's part of the jigsaw of things that need to come together to shift perceptions and disrupt the status quo – because it's clear we can't go on like this! But actual change will only happen when we rise to the occasion and do something real. I'm grateful we had the opportunity to do that this weekend. I can't stop thinking of the moment that seal entered the water happy and free.
You can see a video of that joyful moment here:
Seal pup rescued from plastic fishing line free to go back in the sea
I'll never forget the pain of gazing into the eyes of that beautiful wild animal in distress, caused by human plastic pollution, needing human help to put things right.
The metaphor couldn't be more pertinent. We've created multiple human-made disasters on a scale too large for us to fully comprehend (plastic pollution, deforestation, overfishing, habitat loss, mass extinctions, soil erosion, climate change…)
Humans aren't evil, but collectively we've made very unwise choices. It's not too late to put them right. It's up to all of us to take real action to help nature. Turning away is not an option.
UPDATE:
I'm heartbroken to share that the seal pup we helped release from the fishing line was found washed up dead on a neighbouring beach four days later. After being cut free she was assessed by British Divers Marine Life Rescue volunteers and a vet and all agreed she appeared strong enough to be released. She made her way down the beach and swam away strongly, and Start Bay was sheltered from the worst of Storm Ciara, but unfortunately, it wasn't meant to be for this little seal pup.
The only positive to come out of this is increased awareness about how deadly plastic pollution is for marine wildlife, with many more people keen to help out with beach cleans.
We also hope it helps raise awareness among the fishing community of the need to take great care to prevent nets & line from escaping into the sea. Meanwhile, some people will decide that fish is not something they can continue to eat with a clear conscience.
With more winter storms battering our coasts this month we will have even more pollution washed up that needs clearing away safely. Please spare a thought for marine wildlife when you spot plastic litter, and take a moment to pick it up. This is equally important inland, as local rivers transport plastic pollution to the sea.
If you ever come across live or dead marine wildlife strandings in the UK, please contact the BDMLR as soon as possible – details below. It's a good idea to add their number to your phone if you live near the coast for quickest response time if you find a stranded animal in need.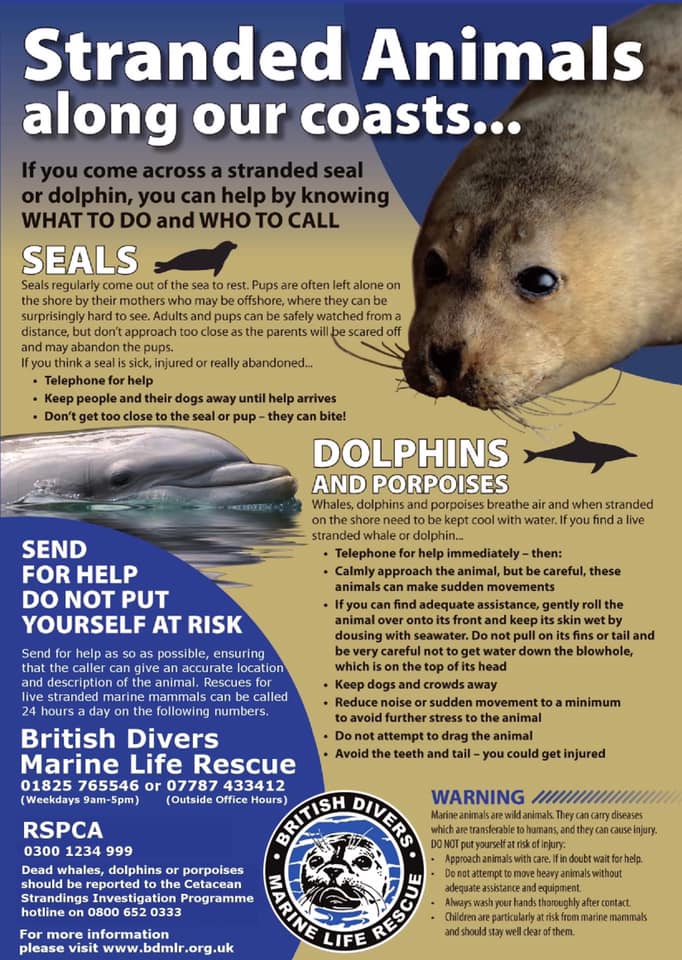 #PlasticKills #GhostFishing #EndPlasticPollution
#PlasticGameChanger #LessPlastic #MoreNature
To keep up to date with Less Plastic news, sign up here.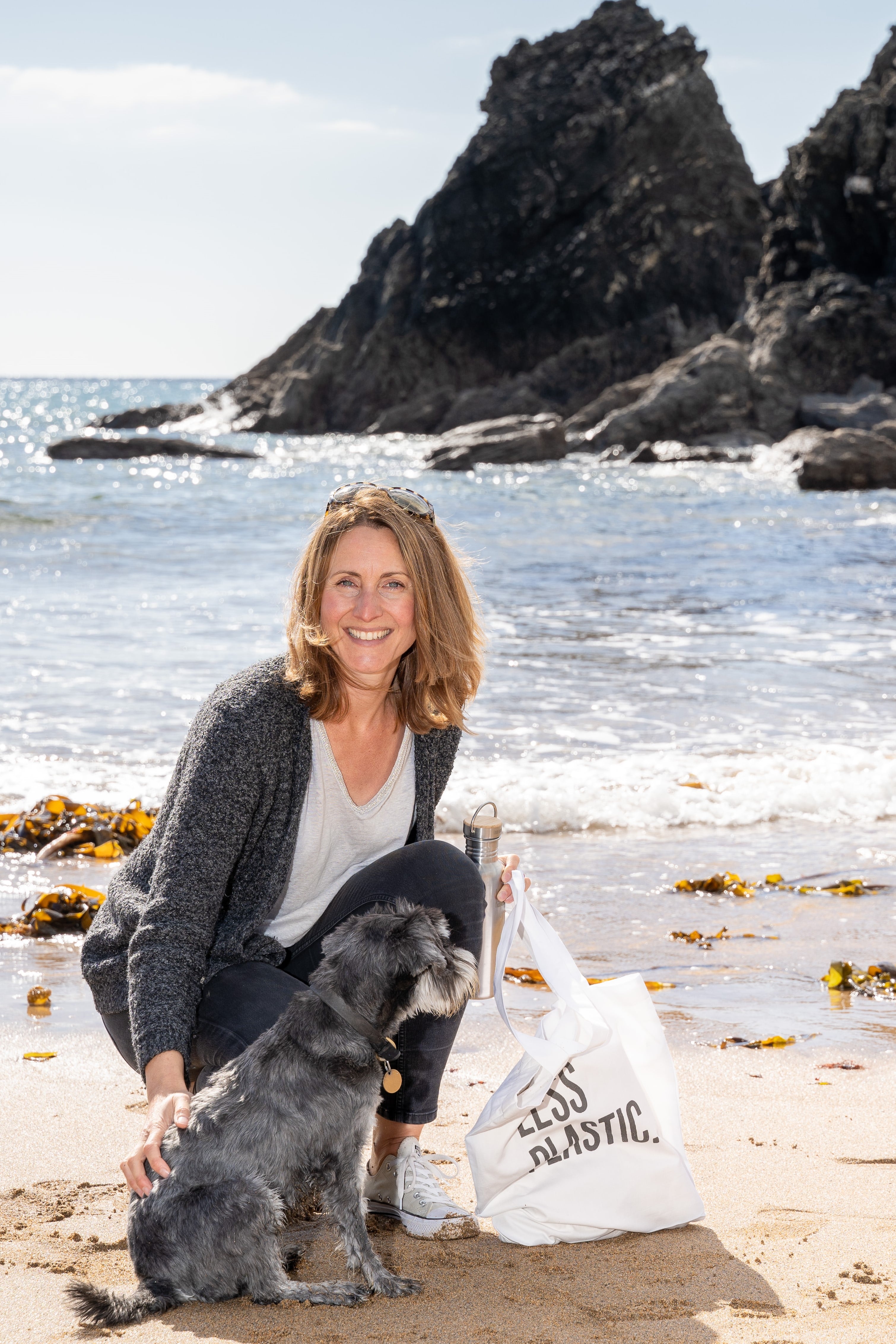 Amanda Keetley is a professionally qualified Marketing expert with over 20 years' experience, specialising in strategy and communications.
She founded Less Plastic in 2015 to raise awareness of the ocean plastic crisis and inspire individuals, organisations & communities around the world to use less plastic. She has brought the "less plastic lifestyle" to a wide audience via her blog, infographics and social media following.
Amanda wrote the world's first book to help businesses reduce plastic waste,  called Plastic Game Changer, which features her five-step framework to accelerate plastic reductions plus invaluable insights and best practice case studies. She offers talks & workshops, consultancy and infographics to inspire positive change.
In her spare time she organises monthly community beach cleans and also loves dog walks, yoga, kayaking, snorkelling, and the thrill of running into the cold sea with no wetsuit!
You can find her on Instagram, Facebook, Twitter and LinkedIn.